Critters 4 ** (1992, Don Keith Opper, Terrence Mann, Brad Dourif, Paul Whitthorne, Angela Bassett) – Classic Movie Review 3989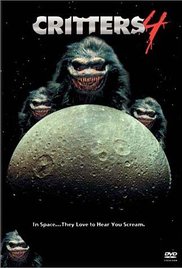 Director Rupert Harvey's 1992 final chapter of the Critters saga stars Don Keith Opper, Terrence Mann, with Brad Dourif, Paul Whitthorne and Angela Bassett. It is set in 2045.
The extra-terrestrial hairballs with dentures bounce back to the future to attack a spacecraft in this tolerable third sequel, with Dourif an asset in a gleeful over-the-top acting turn as Al Bert that helps. Opper and Mann are also back as bounty hunter Charlie McFadden and Ug in further furious furball action, this time with a sci-fi setting, in which the Critters threaten a space crew.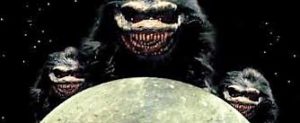 This typical Nineties straight-to-video horror fodder is energetically done on a low budget, with decent effects. It should please fans of the genre and the series. It was made back to back with part three, Critters 3 (1991), and, like that one, it is an unexpected improvement on the first two movies.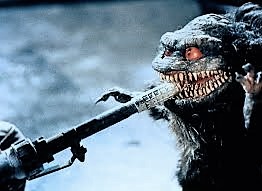 It is also known as Critters 4: Critters in Space.
Also in the cast are Anders Hove, Eric DaRe and Anne Elizabeth Ramsay. Martine Beswick provides the voice of Angela.
It is based on a story by the producers Rupert Harvey and Barry Opper. The screenplay is by Joseph Lyle and David J Schow.
The space scenes of the cargo retrieval ship and docking with the spaceship and many sets are lifted from Don Opper's film Android (1982) and the footage of Ug's ship at the end are taken from Critters 2 (1988).
The visual effects are by Hollywood Optical Systems and the special effects are by the Chiodo Brothers – design and supervision by Charles, Edward and Stephen Chiodo.
© Derek Winnert 2016 Classic Movie Review 3989
Check out more reviews on http://derekwinnert.com