Critters 2: The Main Course * (1988, Scott Grimes, Cynthia Garris, Liane Curtis, Terrence Mann, Don Opper) – Classic Movie Review 4124
The countryside inhabitants of Grover's Bend mistake unhatched Critter eggs for Easter eggs but Brad (Scott Grimes) cannot persuade anyone that the carnivorous extra-terrestrial ferocious furballs with dentures have bounced back n director Mick Garris's unwelcome 1988 sequel.
But very soon they have hatched and are rampaging again.Luckily, Don [Keith] Opper and Terrence Mann are back as Charlie McFadden and Ug, bounty hunters from a distant planet, who ride to Earth's rescue.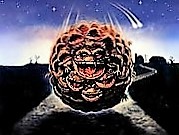 There are virtually no scares nor any laughs, though Barry Corbin as Harv the sheriff helps. But mostly, alas, Critters 2 seems more like leftovers than The Main Course. It is nice to know though, as we are told that 'Absolutely no Critters were harmed in the making of this motion picture.'
Also in the cast are Cynthia Garris, Al Stevenson, Tom Hodges, Barry Corbin, Liane Curtis, Sam Anderson, Lindsay Parker, Herta Ware, Lin Shaye and Roxanne Kernohan.
Critters 3 and Critters 4 followed in 1991 and 1992. Opper and Mann are in all four Critters movies.
© Derek Winnert 2016 Classic Movie Review 4124
Check out more reviews on http://derekwinnert