Critters ** (1986, Dee Wallace Stone, Billy Green Bush, M Emmet Walsh, Scott Grimes, Billy Zane, Terrence Mann, Don Keith Opper, Ethan Phillips) – Classic Movie Review 3990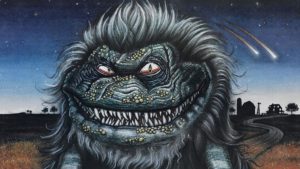 Nasty little killer fur-ball aliens, fleeing from an inter-galactic jail pursued by two shape-shifting extra-terrestrial bounty hunters, invade Dee Wallace Stone's Kansas farm in co-writer/ director Stephen Herek's engagingly infantile 1986 Gremlins-style sci-fi horror comedy.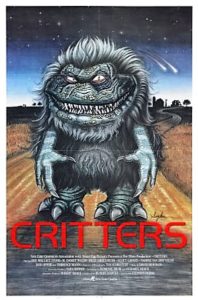 The locals retaliate by fighting the furry monster menace, whose squeaks and squeals are subtitled for those unfamiliar with Critter-speak. The good cast of Wallace Stone, M Emmet Walsh and Billy Green Bush work hard to keep the daft B-movie proceedings afloat, while the tongue-in-cheek humour and a zest in the direction keep the cheap and cheerful action moving along, abetted by the amusingly risible trick work of the visual and special effects.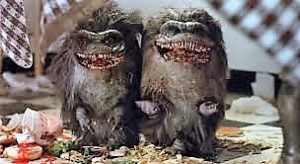 It is Billy Zane's second movie, aged 20, playing Steve Elliot. There are four Critters outings so far, all of them featuring Terrence Mann as Ug and Don Keith Opper as bounty hunter Charlie McFadden: Critters 2, Critters 3 and Critters 4.
© Derek Winnert 2016 Classic Movie Review 3990
Check out more reviews on http://derekwinnert.com