Crimes of Passion [China Blue] *** (1984, Kathleen Turner, Anthony Perkins, John Laughlin, Annie Potts, Bruce Davison) – Classic Movie Review 5449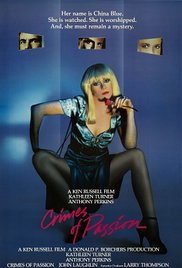 Director Ken Russell pulls off a precarious tightrope trick over the pit of bad taste thanks to his unique pictorial style and the audacity of his actors' performances in his 1984 thriller.
Kathleen Turner stars as architect Joanna Crane, who is is dull by day but dangerous by night as a blonde, bewigged hooker China Blue. She strikes up the unhealthiest of affairs with a severely mentally unstable preacher, the Reverend Peter Shayne (Anthony Perkins), and is also pursued by Bobby Grady (John Laughlin), a married father with two children.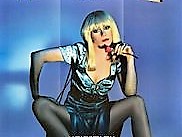 Russell throws in every perversion in the book, as well as a couple that seem to have been improvised on set. But there is an unsettling mood of very black comedy that suggests that he is presenting an alternative look at US society as dark and as liberating as David Lynch's Blue Velvet (1986).
It runs 107 minutes but the cut (censored) version runs 101 minutes and the director's cut runs
It is written by Barry Sandler, shot by Dick Bush, produced by Barry Sandler, set designed by Stephen Marsh, and scored by composer Rick Wakeman, who appears in the film as the wedding photographer.
Also in the cast are Annie Potts, Bruce Davison, Gordon Hunt, Dan Gerrity, Terry Hoyos, Vince McKewin, Deanna Oliver, Patricia Stevens, John C Scanlon, Janice Renney, Stephen Lee, Pat McNamara, Christine Lange, John Rose and Louise Sorel.
© Derek Winnert 2017 Classic Movie Review 5449
Check out more reviews on http://derekwinnert.com