Crimes and Misdemeanors **** (1989, Woody Allen, Alan Alda, Claire Bloom, Mia Farrow, Joanna Gleason, Anjelica Huston, Martin Landau) – Classic Movie Review 5465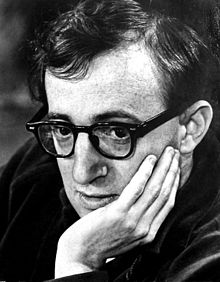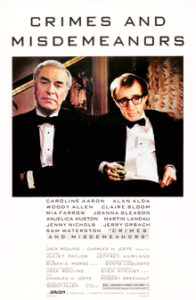 Writer-director Woody Allen's 1989 movie is his 17th film as writer-director and his 10th with Mia Farrow. It was nominated for three Academy Awards: Allen for Best Director and Best Original Screenplay, and Martin Landau for Best Supporting Actor.
Allen also stars as Cliff Stern, a struggling documentary film-maker involved with an insufferable sitcom producer called Lester (Alan Alda), his assistant Halley Reed (Farrow) and a philandering eye doctor, Judah Rosenthal (Martin Landau), cheating on his wife (Claire Bloom).
Judah's mistress Dolores Paley (Anjelica Huston) orders him to leave his wife and marry her as promised or she will reveal their affair.
Allen boldly goes into new territory for him – a Fatal Attraction-style thriller with laughs – to produce a deeply pessimistic film where love is unrequited and justice is not done.
Yet the movie is elegantly written, handsomely filmed (cinematography by Sven Nykvist and sets by Santo Loquasto), and beautifully acted, not least by Landau. And, yes, sometimes it is even funny. Always richly entertaining, it is one of Allen's best. It cost $19 million and grossed $18,250,000 in the US, so it was not one of his hits.
Also in the cast are Joanna Gleason, Caroline Aaron, Jenny Nichols, Jerry Orbach, Sam Waterston, and Daryl Hannah.
Allen recalls he had difficulty casting the role of the philandering eye doctor, Judah Rosenthal: 'I just couldn't find anybody good for the part of Judah. Martin Landau read it and he was completely natural. Of all the actors I've ever worked with, he gives expression to my dialogue exactly as I hear it. His colloquialisms, his idiom, his inflection is exactly correct. So of all the people who've ever read my lines, he makes them correct every time. One of the reasons for this must be that he came from my neighbourhood in Brooklyn, right near where I lived, only a few blocks away.'
Landau also taught acting and one of the actors coached by him was Anjelica Huston.
In 1980 Allen began a 12-year relationship with Mia Farrow, who starred in 13 of his films from 1982 to 1992, but they never married or lived together. Allen married her adopted daughter Soon-Yi Previn on 23 December 1997.
Allen's 11th, 12th and 13th movies with Farrow are Alice, Shadows and Fog and Husbands and Wives.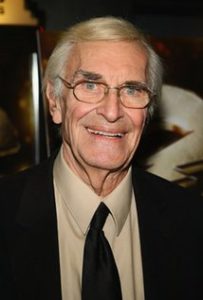 RIP most beloved Martin Landau, best remembered for North by Northwest, Crimes and Misdemeanors and Ed Wood (1994). He won the Best Supporting Actor Oscar for Ed Wood and had two other nominations – for Crimes and Misdemeanors and Tucker: The Man and His Dream (1988). He also won the Golden Globe for Ed Wood and Tucker: The Man and His Dream, as well as the 1968 Golden Globe for Best TV Star – Male.
© Derek Winnert 2017 Classic Movie Review 5465
Check out more reviews on http://derekwinnert.com