Cries & Whispers [Viskningar och rop] ***** (1972, Bibi Andersson, Ingrid Thulin, Liv Ullmann, Kari Sylwan) – Classic Movie Review 3933
Producer-writer-director Ingmar Bergman's haunting and shattering 1972 Swedish movie represents the quintessence of Bergman's art, with three of his best, most famous players all at their peak, while Kari Sylwan is equally memorable. And there is beautiful work from his Oscar-winning cinematographer Sven Nykvist.
Around the turn of the last century, at a Swedish country home, a woman (Bibi Andersson) lies in bed dying of cancer and her two sisters (Ingrid Thulin and Liv Ullmann) arrive to care for her, though her maid (Sylwan) is already looking after her. Like in an Ibsen play, long-repressed feelings between the sisters come to the surface.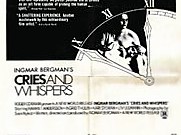 With its delicately written screenplay, this devastating world cinema masterpiece is searing and unforgettable. It packs an almost unbearable emotional impact and hurts to watch. Films don't come much gloomier than this. But it is essential viewing for the strong at heart.
Also in the cast are Henning Moritzen, Anders Ek, Inga Gill, Erland Josephson and Georg Årlin.
© Derek Winnert 2016 Classic Movie Review 3933
Check out more reviews on http://derekwinnert.com