Crazy Heart **** 2009, Jeff Bridges, Maggie Gyllenhaal, Colin Farrell, Robert Duvall) – Classic Movie Review 785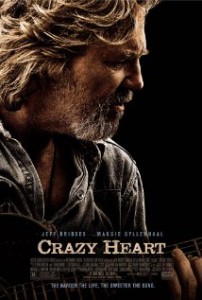 Writer-director Scott Cooper's sensational 2009 movie feature debut showcases Best Actor Oscar-winning Jeff Bridges, who is at his best for ages and ages as Bad Blake, a boozed-out, burnt-out country singer.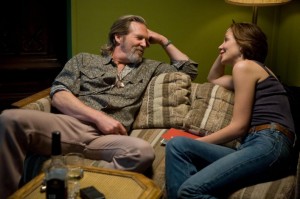 Bad Blake gets a second bit of a chance thanks to a young country singer, Tommy Sweet (Colin Farrell) he writes songs for, a Santa Fe reporter, Jean Craddock (Maggie Gyllenhaal, also Oscar-nominated) he falls for and a good ol' club owner, Wayne (Robert Duvall, also one of the producers of the film), who's his buddy.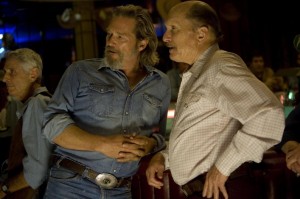 Bridges is slighter better than the film even. But the film's great, too – lively, atmospheric, appealing and touching – much, much better than the TV movie kind of material it could easily have slipped into. The music (especially Ryan Bingham and T Bone Burnett's Oscar-winning song The Weary Kind) and its playing are smashing, even if you don't much care for country music.
You'd be crazy to miss it!
Bridges and Farrell do their own singing with the assistance of voice coach Roger Love.
Bridges partly modelled his character after Stephen Bruton, the movie's music producer, to whom the film is dedicated in loving memory when he died before it opened.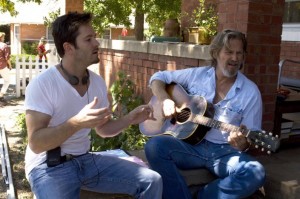 It is Bridges's first Oscar win after four previous nominations: The Last Picture Show (1971), Thunderbolt and Lightfoot (1974), Starman (1984) and The Contender (2000). He was nominated again as Best Actor the following year for True Grit (2010). Bridges also won the Golden Globe as Best Actor Drama, and Ryan Bingham and T Bone Burnett won Best Original Song. In the UK, there were no Bafta awards or London Critics Circle Film Awards.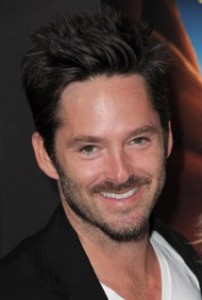 Actor as well as director Cooper's based his screenplay on Thomas Cobb's novel. Cooper's feature debut as actor was in Austin Powers: The Spy Who Shagged Me (1999). His second movie as writer-director is Out of the Furnace (2013).
http://derekwinnert.com/out-of-the-furnace-film-review/
http://derekwinnert.com/austin-powers-the-spy-who-shagged-me-classic-film-review-492/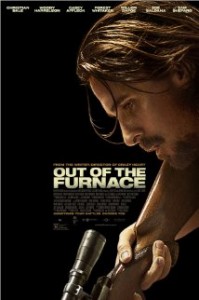 © Derek Winnert 2014 Classic Movie Review 785
Check out more reviews on http://derekwinnert.com