Cool Hand Luke ***** (1967, Paul Newman, George Kennedy, Strother Martin, Richard Davalos, Jo Van Fleet, J D Cannon, Lou Antonio, Robert Drivas, Clifton James, Strother Martin, Dennis Hopper, Wayne Rogers, Anthony Zerbe, Ralph Waite) – Classic Movie Review 862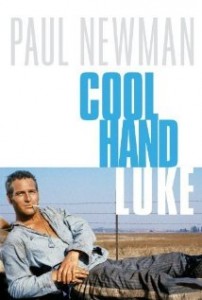 Paul Newman enjoys one of his most memorable and iconic cool roles as Cool Hand Luke in director Stuart Rosenberg's tough, haunting and richly enjoyable 1967 prison movie classic.
Gutsy prisoner Luke Jackson works on the chain gang in the American Deep South but he refuses to be broken by the unforgiving, cruel system and the heavy hand of authority. He keeps escaping and being recaptured, turning himself into an icon for the cons, who admire him. But the camp staff works to crush Luke…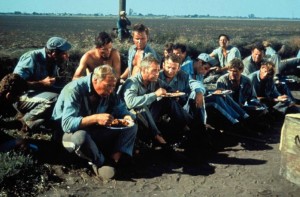 Newman is stupendous in one of his best performances and he was Oscar nominated for the fourth time, but it was George Kennedy who won a best supporting actor Oscar in a memorable portrayal of nastiness as a bullying prisoner called Dragline, whose boss role on the chain gang is threatened by Newman's Luke. Dragline sums him up: 'You're an original, that's what you are!'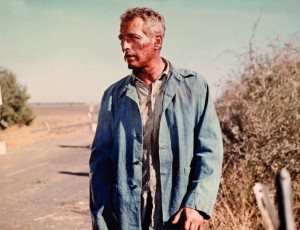 Rosenberg directs with his usual flair with actors – and it's quite a cast! – combined with a rare tautness, dynamism and power for him. Jo Van Fleet, J D Cannon, Lou Antonio, Robert Drivas, Clifton James, Strother Martin, Dennis Hopper, Wayne Rogers, Anthony Zerbe, Ralph Waite, Harry Dean Stanton, Luke Askew, Robert Donner, Richard Davalos (as convict Blind Dick) and Joe Don Baker are in the dream ensemble of actors. Rance Howard (1928–2017) has an uncredited role as the Sheriff.
There's outstanding cinematography from triple-Oscar-winner Conrad L Hall: he and Newman worked together on their final film, Road to Perdition, in 2002. Hall died on , aged 76. Newman died on September 26 2008, aged 83.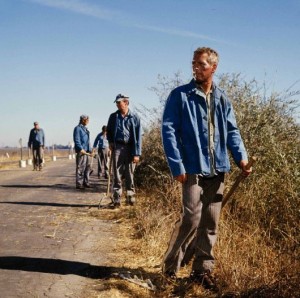 Cool Hand Luke is produced by Jack Lemmon's company Jalem and distributed by Warner Bros. Adapting his own novel, Donn Pearce co-writes the screenplay with Frank R Pierson. It was Oscar nominated, as was Lalo Schifrin's distinguished score.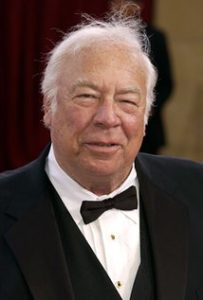 Best supporting actor George Kennedy, who was a fixture of Seventies disaster movies including the Airport franchise and Earthquake, died on February 28 2016 in Boise, Idaho, aged 91.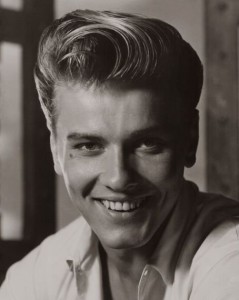 Richard Davalos died on 8 March 2016, aged 85. While he played James Dean's brother Aron in East of Eden (1955), they roomed together in a Burbank apartment. His other credits include I Died a Thousand Times, All the Young Men, The Cabinet of Caligari, Pit Stop, Kelly's Heroes, Brother Cry for Me, Hot Stuff, Death Hunt, Something Wicked This Way Comes and Ninja Cheerleaders.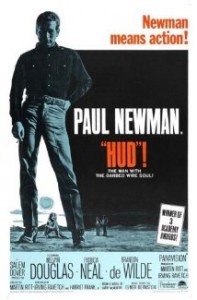 Newman's three previous Oscar nominations are for Cat on a Hot Tin Roof, The Hustler and Hud. He finally won, for The Color of Money (1986), but it was for the wrong performance and the wrong film. Newman showed his disdain for the Oscars by not being present at the awards ceremony. Robert Wise had to accept the award on his behalf.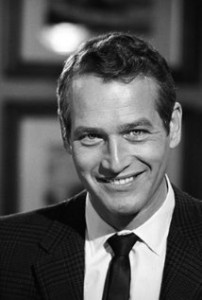 http://derekwinnert.com/cat-on-a-hot-tin-roof-classic-film-review-174/
http://derekwinnert.com/hud-classic-film-review-230/
http://derekwinnert.com/road-to-perdition-classic-film-review-234/
http://derekwinnert.com/the-color-of-money-1986-paul-newman-best-actor-oscar-classic-film-review-873/
© Derek Winnert 2014 Classic Movie Review 862
Check out more reviews on http://derekwinnert.com/