Convicted *** (1950, Glenn Ford, Broderick Crawford, Millard Mitchell, Dorothy Malone) – Classic Movie Review 5298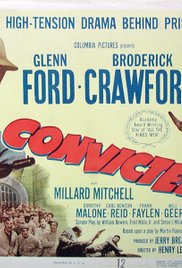 Director Henry Levin's satisfactory 1950 Columbia Pictures prison drama is the usual stuff in about convicts in jail. It lacks thrills but it is earnest, sombre, decent and reliably acted by a strong cast.
If it seems familiar, it is actually a somewhat tweaked remake of Howard Hawks's 1931 The Criminal Code, the title of the original play by Martin Flavin that it is based on. And it was also previously remade as Penitentiary by John Brahm in 1938 (with Walter Connolly, John Howard and Jean Parker).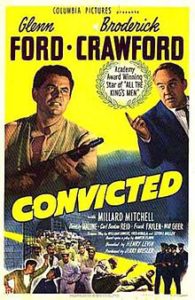 The district attorney turned prison warden George Knowland (Broderick Crawford) and his daughter Kay (Dorothy Malone) try to help Joe Hufford (Glenn Ford), a prisoner he prosecuted, prove that he had killed a man in self defence in nightclub brawl. Hufford (Ford) and Kay fall in love, but then Hufford gets involved with another murder in the jail and he gets involved in a prison escape…
The movie is worthy and solid, and quite well done, but there is not much entertainment or excitement. However, the star trio and fine character actors add needed oomph – and conviction – to the film.
It is written by William Bowers, Fred Niblo Jnr and Seton I Miller, shot in black and white by Burnett Guffey, produced by Jerry Bresler, scored by George Duning and set designed by Carl S Anderson.
Also in the big cast are Millard Mitchell, Frank Faylen, Carl Benton Reid, Will Geer, Roland Winters, Ed Begley, Martha Stewart, Henry O'Neill, Douglas Kennedy, Frank Cady, John Doucette, Ilka Gruning, John A Butler, Peter Virgo, Whit Bissell, Fred F Sears, Fred Graham, Eddie Parker, Vincent Renno, Robert Malcolm, James Bush, William Tannen, Wilton Graff, Richard Hale, Harry Harvey, Harry Wilson, Harry Cording, Griff Barnett, Jay Barney, Marshall Bradford, Benny Burt, James Bush, Charles Cane, Clancy Cooper, Jimmie Dodd, Wilton Graff, William E Green, Chuck Hamilton, Bradford Hatton, Tom Kingston, Robert Malcolm, Alphonse Martell, James Millican, Charles Sherlock, Ray Teal and William Vedder.
It was re-titled One Way Out in the UK.
© Derek Winnert 2017 Classic Movie Review 5298
Check out more reviews on http://derekwinnert.com