Constantine **** (2005, Keanu Reeves, Rachel Weisz, Shia LaBeouf, Tilda Swinton, Peter Stormare, Djimon Hounsou) – Classic Movie Review 255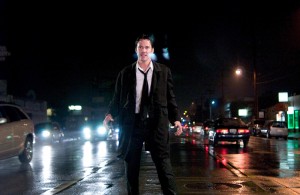 'Hell wants him. Heaven won't take him. Earth needs him.'
Looking impressively sick and ravaged, Keanu Reeves is the chain-smoking, dying demon hunter John Constantine in this 2005 smart, imaginative Matrix-y sort of sci-fi, fantasy horror thriller. It's based on the comic book Hellblazer by Jamie Delano and Garth Ennis.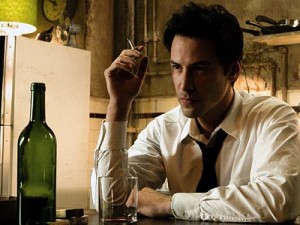 Tormented by his ability to see angels and demons in human guise on Earth, doomed hero Constantine tries to help LA cop Detective Angela Dodson solve the riddle of the apparent suicide of her twin sister, Isabel. She was a devout Catholic and so wouldn't have killed herself, Angela reasons.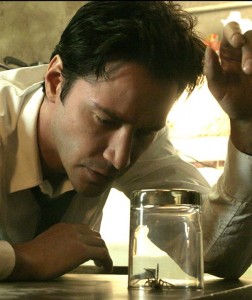 It helps that Constantine has been to hell and back himself, after committing suicide. But he knows that he's destined to return to burn in the perpetual flames below, unless some good deeds might save him. What he discovers are demons trying to break through to our world and his quest finally leads him to have to battle Satan.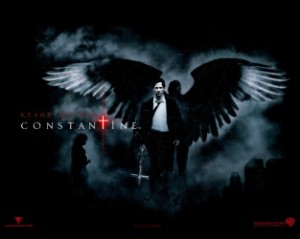 On fine form, Keanu gives a star turn to reckon with in a flash-looking film enlivened by bursts of action and lots of humans turning into CGI monsters. If the comic-book-based plot is sometimes a bit baffling (story and screenplay by Kevin Brodbin), that only serves to make you pay full attention, and the movie's always really enjoyable and compelling.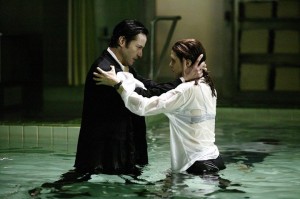 It's a credit to music video experienced director Francis Lawrence, who went on to I Am Legend, Water for Elephants and The Hunger Games, as well as Philippe Rousselot's eye-catching cinematography. There's a great soundtrack too, by Brian Tyler and Klaus Badelt.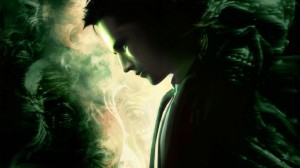 Rachel Weisz is an effective co-star, playing both Angela and Isabel Dodson. Tilda Swinton enjoys herself hugely as the Archangel Gabriel (though this really should be a man's role) and Peter Stormare goes impressively over the top as Satan. Djimon Hounsou is Midnite, Shia LaBeouf is Chas Kramer, Gavin Rossdale is Balthazar, Max Baker is Beeman, Larry Cedar is Vermin Man and Pruitt Taylor Vince is Father Hennessy.
But it's Keanu's movie and he makes the most of it.
http://derekwinnert.com/the-matrix-classic-film-review-22/
© Derek Winnert 2013 Classic Movie Review 255
Check out more reviews on http://derekwinnert.com/