Connecting Rooms * (1970, Bette Davis, Michael Redgrave, Alexis Kanner, Kay Walsh, Gabrielle Drake, Leo Genn) – Classic Movie Review 6015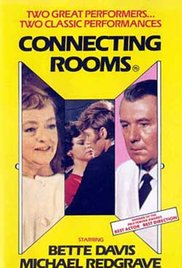 Writer/ producer/ director Franklin Gollings's sluggish and disappointing 1969 drama stars a miscast Bette Davis as a rather sad street-musician cellist called Wanda Fleming and a better cast Michael Redgrave as a dismissed gay ex-schoolteacher named James Wallraven, lost in memories of his youth. Wallraven was accused of paedophilia and is now reduced to working as a janitor in an art gallery.
Gollings's odd British film is based on Marion Hart's play The Cellist. Set in a seedy Bayswater, London, rooming house owned by the dour Mrs Brent (Kay Walsh), this stilted melodrama sits uncomfortably on the screen, though the stars make it bearable.
Alexis Kanner gives an awkward turn as the insidious, greedy songwriter/pop singer Mickey Hollister, who is looking to James Wallraven (Redgrave) for cash and career help.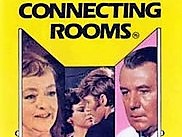 Rather than enjoyable or entertaining, it is just very worrying to see the always so commanding Davis in so pathetic a mousey victim role. Alas is not really much of a success, and it ends up as one for avid Davis watchers only.
Davis said: ' I liked the fact that it was not a film of violence. It was a complete change of pace for me.'
Also in the cast are Gabrielle Drake, Leo Genn, Olga Georges-Picot, Brian Wilde, Mark Jones, John Woodnutt, Tony Hughes, James Maxwell and Richard Wyler.
It is shot in Technicolor by John Wilcox, produced by Gollings, Harry Field and Arthur Cooper for Telstar and Hemdale, and scored by John Shakespeare.
Busker Davis plays her cello outside a theatre, whose marquee advertises Margo Channing in Remembrance, the character she played in All About Eve (1950) working on a play called Remembrance.
Alexis Kanner (1942–2003) briefly became a well-known name as Detective Matt Stone in the BBC TV series Softly Softly in 1966.
© Derek Winnert 2017 Classic Movie Review 6015
Check out more reviews on http://derekwinnert.com