Conflict ** (1945, Humphrey Bogart, Alexis Smith, Sydney Greenstreet) – Classic Movie Review 3881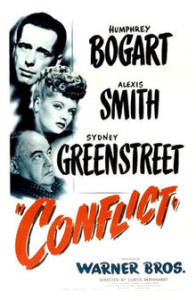 Director Curtis Bernhardt's 1945 film noir suspense thriller has its moments but it is one of Humphrey Bogart's least good and least well-known pictures from his best period.
Engineer Richard Mason (Bogart) sends his hated wife Kathryn (Rose Hobart) over a cliff on a lonely mountain road in order to swap her for her younger sister Evelyn (Alexis Smith). But is she really dead? When he smells her perfume, finds her jewellery and sees an envelope with her handwriting, he goes back to the scene of the crime.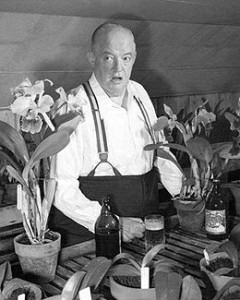 Sydney Greenstreet is on entertaining form as the family friend psychiatrist, Dr Mark Hamilton. But everyone else, including director Bernhardt and even Bogart, who was perhaps understandably reluctant to play a wife murderer, seems uneasy with this preposterous yarn.
While about to film Passage to Marseilles (1944), Bogart got into a conflict with studio boss Jack L Warner over doing the role. A dispute over the rights to part of the story delayed the release. Warner Bros then cast Bogart and Smith in another movie on a similar theme, The Two Mrs Carrolls (1947).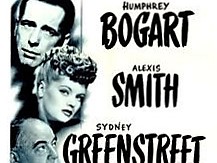 The film ends up as the only one starring Bogart and Greenstreet where Bogart, not Greenstreet, is the bad guy.
Somehow it still manages to be occasionally tense and atmospheric, even if it is always contrived and mechanical. The wobbly screenplay is by Arthur T. Horman and Dwight Taylor, based on the story The Pentacle by Alfred Neumann and Robert Siodmak.
Also in the cast are Charles Drake, Grant Mitchell, Patrick O'Moore, Ann Shoemaker, Frank Wilcox, James Flavin, Edwin Stanley, Ralph Dunn, George Carleton, Wallis Clark, Harlan Briggs, Jack Mower and Emmett Vogan.
© Derek Winnert 2016 Classic Movie Review 3881
Check out more reviews on: derekwinnert.com