Come As You Are **** (2011, Gilles de Schryver, Robrecht Vanden Thoren, Tom Audenaert, Isabelle de Hertogh, Charlotte Timmers, Roos Van Vlaenderen) – Movie Review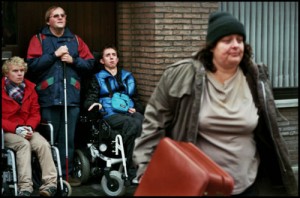 Originally bearing the much better title Hasta La Vista, this 2011 road movie tale of three handicapped young Belgian guys setting off to Spain with a paid helper to lose their virginity in a brothel has a familiar ring but is a sweet little winner.
It's so well meaning and life-affirming it sometimes hurts – it has to be. It's a shade depressing at times and it's way too long at two hours, but it comes though strongly.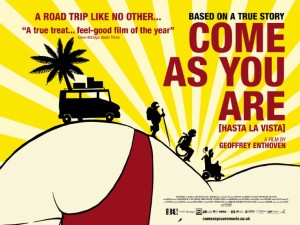 Gilles de Schryver, Robrecht Vanden Thoren and Tom Audenaert are perfect as Flemish-speaking 20-somethings Lars, Philip and Jozef, who set off in a van without the permission of the parent-carers in the company of a brusque, French-speaking person they haven't met before, Claude (Isabelle de Hertogh), who turns out to be a plain, plump woman, on parole after being freed from jail when trying to kill her unfaithful ex-husband. This is a story, above all, of loyalty.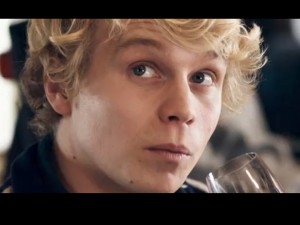 Lars is in a wheelchair with a brain tumour, Philip is paralysed from the neck down and Jozef is blind. They're rough diamonds and best mates to the end. That their 'mammoth' maverick care-worker turns out to be a similar good free spirit to them is going to surprise no one.
There have been several films like this over the past 25 years, but, with TLC and attention, this tale can always be retold to great advantage. And that's exactly what director Geoffrey Enthoven and writer Pierre de Clercq do, and with zest, style and brio.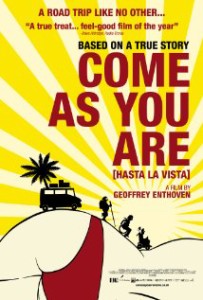 It's a thoroughly likeable film, funny and just plain decent. There's plenty of fun to be found but the disabled are taken very seriously and friendship is taken very seriously indeed. All three male stars are excellent with this, producing the most appealing of performances, but they wouldn't have been quite so good without de Hertogh, who emerges with great dignity in a lovely, surprisingly restrained portrait of a damaged person made whole again by this once-in-a-lifetime experience. She's Muriel in Muriel's wedding, but with more low-key subtlety.
Never getting too bogged down in awkward detail, Enthoven keeps the film filmic, the movie moving, the pace compensating for the long running time, the warm heart keeping it delightful.
You'll laugh, you'll cry, guaranteed.
© Derek Winnert 2013 Movie Review
Check out more reviews on http://derekwinnert.com