Color Me Dead * (1969, Tom Tryon, Carolyn Jones, Rick Jason) – Classic Movie Review 6677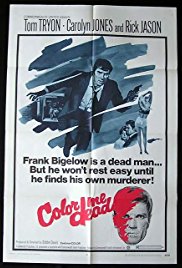 Producer-director Eddie Davis's 1969 Australian remake of the 1950 film noir classic D.O.A. stars Tom Tryon as Frank Bigelow, an accountant who finds he has taken a slow-working deadly poison and must track down his own killer in case there is an antidote and he can stop himself from being Dead On Arrival.
The original writers Russell Rouse and Clarence Greene have scripted it again, but their work is all to little avail, since there is a near-total lack of style, conviction or ambition in evidence on screen.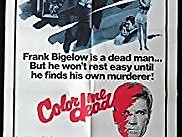 The performances from a forlorn and miscast ensemble are desultory and the relatively unfamiliar Sydney setting isn't used to any special effect. However, it is nicely shot, and this time in colour, as the title seems to imply. The glossy-looking colour makes Color Me Dead very Sixties just as the original was totally Fifties.
Also in the cast are Carolyn Jones, Rick Jason, Patricia Connolly, Tony Ward, Penny Sugg, Reg Gillliam, Margot Reid and Peter Sumner (1942–2016).
Color Me Dead is shot in Eastmancolor by Mick Borneman and scored by Bob Young.
It is the last movie starring Tom Tryon, though he had a couple of uncredited film appearances afterwards, in Johnny Got His Gun and The Horsemen.
It was remade again D.O.A. in 1988 and 2018 brings a new version, Dead On Arrival.
© Derek Winnert 2018 Classic Movie Review 6677
Check out more reviews on http://derekwinnert.com