Collateral Beauty * (2016, Will Smith, Edward Norton, Kate Winslet, Michael Peña, Helen Mirren, Keira Knightley, Naomie Harris, Ann Dowd, Jacob Latimore) – Movie Review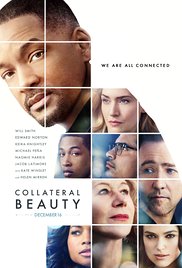 'Tis the season of goodwill still, I know, but Collateral Beauty stretches it to breaking point. I'm afraid that it is one of 2016's least pleasurable viewing experiences.
Will Smith, replacing a fortunate Hugh Jackman, stars as Howard, a successful New York advertising executive with a thing about Love, Time and Death as the most important stuff of life, whose daughter dies, so he writes letters to Love, Time and Death and posts them!
A couple of years or so on, his old company is going down the drain, and his ex-colleagues (Edward Norton, Kate Winslet, Michael Peña) face dismissal, so they employ a detective (Ann Dowd) to get the lowdown on Howard and hire actors (Helen Mirren, Keira Knightley, Jacob Latimore) to impersonate Love, Time and Death and appear to him, just like the spirits in A Christmas Carol did to Scrooge, and talk him out of his numbing grief and into helping them and the company.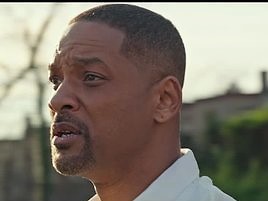 Meanwhile, Norton, Winslet, and Peña have problems of their own. Norton is a philandering father whose daughter rejects him, Winslet has left it too late to have children and Peña is dying so he will have to say goodbye to his kids.
Worse still, Howard gets involved in a self-help group run by do-gooding Madeleine (Naomie Harris), whose own daughter has died, and tries to talk him round with some mumbo jumbo about 'Collateral Beauty'. Howard wisely points out this doesn't exist. But then, do the spirits of Love, Time and Death exist either?
The acting is fine. Smith tries hard with his awkward crying and brooding role, though he looks even more awkward on a bike, the Brit ladies go to it with an iron will and dogged determination, while Norton and Peña are solid. But they can't sell Collateral Beauty. A Christmas Carol and It's a Wonderful Life are in a league of their own as sentimental seasonal heart-warmers, then, now and always. Collateral Beauty is just trite, superficial and sentimental, and as a reflection on bereavement is embarrassingly glossy and plastic. The big topics grasped by this film are just let fall from its limp hand.
The score is equally treacly and the ideas of the 'Collateral Beauty' itself and the endlessly repeated cascading dominoes are as irritating as they are obvious. The plot 'twist' at the end can be seen coming as soon as Smith stumbles into the self-help group about a third in to the movie, while the film itself struggles to fill an hour and a half of screen time, despite so many big issues and potentially interesting characters.
I accept that Collateral Beauty is well meaning and that its heart is in the right place. But the way to hell is paved with well meaning movie scripts. It is written produced by Allan Loeb, the writer of Things We Lost in the Fire (2007), 21 (2008), Wall Street: Money Never Sleeps (2010), Just Go with It (2011) and The Switch (2010).
It is directed briskly, competently and anonymously by David Frankel, whose previous work includes The Devil Wears Prada, Marley & Me, Hope Springs (2012) and One Chance.
© Derek Winnert 2017 Movie Review
Check out more reviews on http://derekwinnert.com