Cold Mountain *** (2003, Jude Law, Nicole Kidman, Renée Zellweger, Donald Sutherland, Ray Winstone, Philip Seymour Hoffman, Natalie Portman, Giovanni Ribisi, Charlie Hunnam, Jena Malone) – Classic Movie Review 1821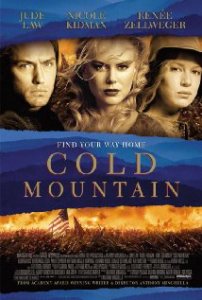 After fierce fighting in the American Civil War, wounded Confederate soldier Inman (Jude Law) is on a perilous journey home to his North Carolina mountain community, hoping to reunite with his pre-Civil War sweetheart Ada Monroe (Nicole Kidman). In his absence, Ada struggles to survive and revive her late father (Donald Sutherland)'s farm with the help of an intrepid drifter, Ruby Thewes (Renée Zellweger).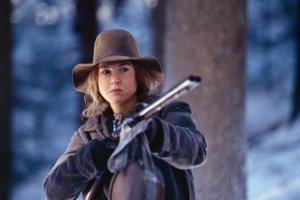 Director Anthony Minghella's lavish, costly ($79 million), visually impressive 2003 romantic Western epic movie is distinguished by John Seale's marvellous photography of the cold and unforgiving landscapes and amazing battle scenes. But the simple human drama tends to drift and get lost in the unnecessarily long running time (154 minutes).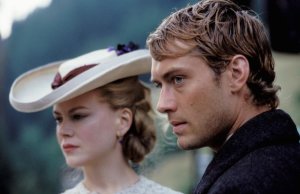 Though everyone is fighting dodgy accents, Law gives an engaging, highly impressive performance and Zellweger is lively in a semi-comic, Calamity Jane-style turn, which eventually turns irritating. Nevertheless, she won an Oscar for Best Supporting Actress, the film's only win out of seven nominations. [Two songs were nominated – Sting's You Will Be My Ain True Love and T Bone Burnett and Elvis Costello's Scarlet Tide – but neither won.] Zellweger also won a Golden Globe and Bafta award – these were the days when almost everybody loved Renée.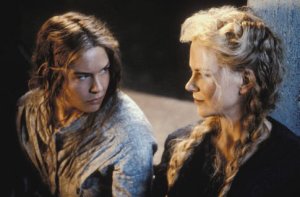 [Spoiler alert] However, Ray Winstone is a one-note, cardboard villain as Teague, Sutherland has nothing to do except come on and die, and an eccentric turn from Philip Seymour Hoffman as the Reverend Veasey goes well till he dies too soon as well.
Most damagingly though, Kidman seems miscast, unable to suggest the soft-centred romantic character she plays. However, she does well with the stoical stuff and the scenes of camaraderie with Zellweger.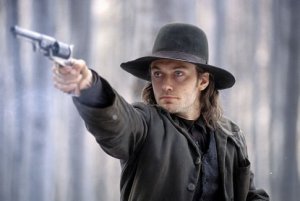 The conscientious screenplay is by Mingella himself, based on Charles Frazier's National Book Award-winning novel. It was filmed in South Carolina, Virginia and Romania. The film was nominated for eight Golden Globe nominations, including Best Picture, but again there was only the one win, for Zellweger.
Also starring in the distinguished cast are Natalie Portman, Giovanni Ribisi, Charlie Hunnam, Jena Malone, Kathy Baker, Eileen Atkins, James Gammon, James Rebhorn (Doctor), Jack White, Melora Walters, Jay Tavare, Brendan Gleeson, Lucas Black, Taryn Manning, Tom Aldredge, Emily Deschanel, Robin Mullins, Ben Allison and Ethan Suplee.
Jude Law, Philip Seymour Hoffman (1967–2014) and James Rebhorn (1948–2014) were also all in Minghella's The Talented Mr Ripley (1999).
© Derek Winnert 2014 Classic Movie Review 1821
Check out more reviews on http://derekwinnert.com/