Clash by Night **** (1952, Barbara Stanwyck, Robert Ryan, Paul Douglas, Marilyn Monroe, Keith Andes, J Carrol Naish) – Classic Movie Review 2597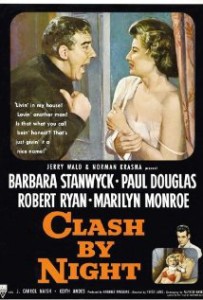 Director Fritz Lang's heated 1952 film noir melodrama, based on the Clifford Odets play as adapted by writer Alfred Hayes, is rivetingly played by a great vintage cast.
Barbara Stanwyck stars as cynical Mae Doyle, who returns to her small fishing village hometown of Monterey, California, and is courted by and then marries shy,  good-natured, unsophisticated fisherman Jerry (Paul Douglas) and has a baby girl.
She despises Jerry's tough friend Earl (Robert Ryan), a bitter, dissatisfied film projectionist, who fancies her right away and elbows in. But Mae becomes bored and restless after a year. Earl, now divorced, makes a move on Mae. She resists at first, but then begins an affair with him.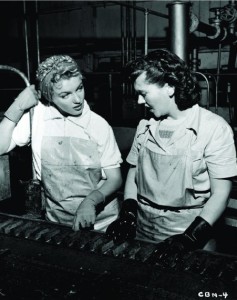 Mae's brother Joe (Keith Andes) fears that his love, fish cannery worker Peggy (Marilyn Monroe), may wind up like Mae. This sub-plot with Monroe and Andes is secondary to the proceedings, but it causes quite a stir because it is Monroe making an early splash, even if it is in a genre that was not truly her own.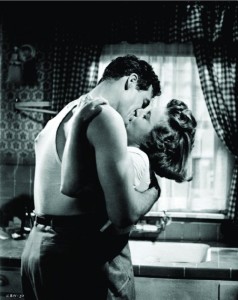 The film breaks into two almost equal parts, separated by a year, both beginning with a documentary look at the fishing industry in Monterey.
Stanwyck, in a role announced for Joan Crawford, has the film's best line: 'Home is where you come to when you've run out of places.'
The title comes from Matthew Arnold's poem Dover Beach (1851). It is a place 'where ignorant armies clash by night'.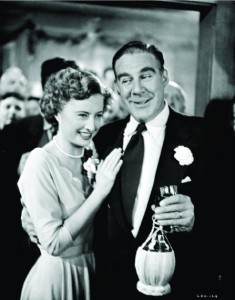 Also in the cast are J Carrol Naish, Silvio Minciotti, Daniel Stewart, Deborah Stewart, Julius Tannen and Tony Dante.
It was the first film in which Monroe was credited before the movie's title, but it is no more than a bit role.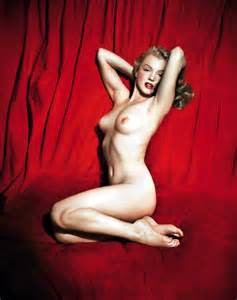 During the shooting, the now famous nude calendar photos of Monroe surfaced. Reporters hounded her, creating problems for the film-makers.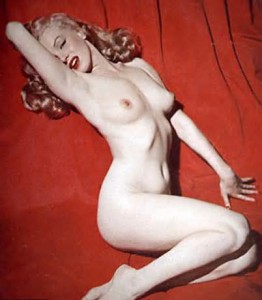 It was originally performed in 1941 as a neo-realist Broadway play with Tallulah Bankhead. The film changes the Staten Island setting to a fishing town in California, but keeps the oppressive seacoast atmosphere.
The $1.5 million box-office take was very respectable.
© Derek Winnert 2015 Classic Movie Review 2597
Check out more reviews on http://derekwinnert.com