City on Fire [Lung foo fong wan] **** (1987, Chow Yun-Fat, Danny Lee, Yueh Sun) – Classic Movie Review 4286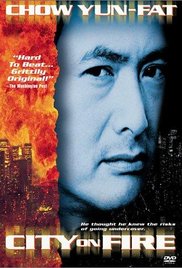 Allegedly the inspiration for Quentin Tarantino's Reservoir Dogs (1992), director Ringo Lam's top-notch 1987 Hong Kong violent revenge cops 'n' robbers thriller has no trouble standing up on its own merits, with a tough-edged story about an undercover cop shot during a gang raid on a jeweller's.
Chow Yun-Fat is a strong presence as the wayward cop Ko Chow, whose loyalties are tested as his life is threatened in this continually gripping thriller spurred on by the complex, multi-stranded story with amazing bursts of fast action and flashy, visceral film-making on Hong Kong street locations.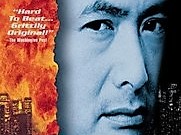 Also in the cast are Danny Lee, Yueh Sun, Carrie Ng, Roy Cheung, Kong Lau and Parkman Wong.
The story is by Ringo Lam and the screenplay by Tommy Sham. The photographer is Wai Keung Lau, the producers are Ringo Lam and Karl Maka, the score is by Teddy Robin Kwan and the production is designed by Chi Fung Lok.
A spruced up version of the movie, with splendidly re-recorded sound, appears on the 2001 DVD release.
© Derek Winnert 2015 Classic Movie Review 4286
Check out more reviews on http://derekwinnert.com