City of Tiny Lights *** (2016, Riz Ahmed, Billie Piper, James Floyd, Cush Jumbo, Roshan Seth) – Movie Review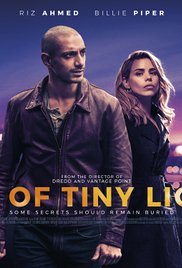 Riz Ahmed impresses again, lighting up the screen as urban London Asian private eye Tommy Akhtar, who is hired by local prostitute Melody (Cush Jumbo) to find her missing hooker flat-mate and is plunged into a dangerous web of secrets, lies, deceit, betrayal, religious fanaticism and political intrigue.
Yes, it is gumshoe business as usual, rounding up the usual suspects, so it has a warmed-up feel, though the modern-day London setting helps to keep it seeming at least partly fresh.
It is well set up, has a sometimes witty script, and certainly looks strikingly good in neo-noir style. But its Chandleresque The Big Sleep-style trappings become a heavy burden for this slimline movie to carry. And Ahmed apart, some of the acting is remarkably weak and unpersuasive, and so is the awkwardly staged action when it comes. Billie Piper, James Floyd, and Roshan Seth also star.
Tommy Akhtar could easily be rewarded with his own TV series, and, with that idea in mind, this feels like the TV movie pilot to the series.
It comes from Pete Travis, the director of Dredd (2012) and Vantage Point (2008). Patrick Neate is the writer.
© Derek Winnert 2017 Movie Review
Check out more reviews on http://derekwinnert.com