City of God [Cidade de Deus] ***** (2002, Alexandre Rodrigues, Matheus Nachtergaele, Leandro Firmino, Alice Braga, Seu Jorge) – Classic Movie Review 1194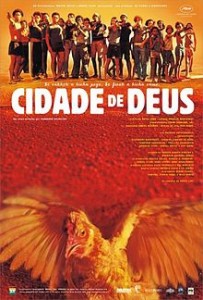 Director Fernando Meirelles's 2002 classic is an extreme but absolutely brilliant and utterly nerve-wracking Brazilian thriller, in which two Rio boys, brought up together in the Sixties, fight it out on different sides of the fence as adults. One, Buscapé (Alexandre Rodrigues), has salvation as a photographer, the other, Zé (Leandro Firmino), comes to a sticky end as a drug dealer.
City of God is a brio piece of film-making that is incredibly exciting and scary to watch. Meirelles was Oscar nominated as Best Director at the 2004 Academy Awards, and there were three other Oscar nominations – for Best Adapted Screenplay (Bráulio Mantovani), Best Cinematography (César Charlone) and Best Film Editing (Daniel Rezende). Rezende won the 2003 Bafta award for Best Editing. It was nominated as Best Foreign Language Film at the 2004 Golden Globes.
Bráulio Mantovani bases his screenplay on a novel by Paolo Lins.
Original title: Cidade de Deus.
It is strong stuff and was rated R for strong brutal violence, sexuality, nudity, drug content and language.
Also in the cast are Phellipe Haagensen, Douglas Silva, Jonathan Haagensen, Matheus Nachtergaele, Seu Jorge, Alice Braga, Emerson Gomes, Edson Oliviera, Jefechander Suplino, Michel de Souza, Roberta Rodrigues, Luis Otavio and Mauricio Marques.
© Derek Winnert 2014 Classic Film Review 1194
Link to Derek Winnert's home page for more film reviews: http://derekwinnert.com/