Chuck Berry: Hail! Hail! Rock 'n' Roll *** (1987, Chuck Berry, Keith Richards, Eric Clapton) – Classic Movie Review 5176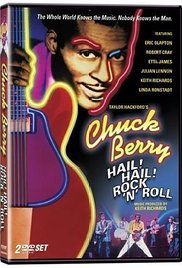 Director Taylor Hackford's 1987 documentary is a flamboyant, thoroughly enjoyable salute to the seemingly immortal Chuck Berry, with archive footage from the early Fifties, fantastic interviews with Sixties survivors and the old rocker himself, plus footage of his 60th birthday concert in 1986 at the Fox Theatre in his hometown of St Louis, Missouri.
This revealing and especially entertaining documentary is an obvious essential treat for fans, who 30 years ago would be delighted to find they could see that there was plenty of life in the old dog yet.
Also appearing in the film are Keith Richards (who produces), Eric Clapton, Robert Cray, Etta James, John Lennon (archive footage in a duet with Berry), Julian Lennon, Linda Ronstadt, Bo Diddley, Don Everly, Phil Everly, Jerry Lee Lewis, Bruce Springsteen, Roy Orbison and Little Richard.
Keith Richards got Robert Cray, Joey Spampinato, Eric Clapton and Berry's long-time pianist Johnnie Johnson to join him in a band, who were joined on stage by Etta James, Linda Ronstadt and Julian Lennon, while Berry performed his classic rock songs.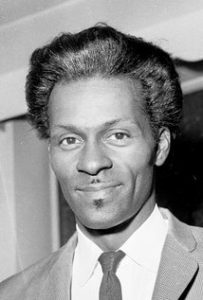 Chuck Berry died on 18 aged 90.
© Derek Winnert 2017 Classic Movie Review 5176
Check out more reviews on http://derekwinnert.com