Chocolat *** (2000, Juliette Binoche, Judi Dench, Alfred Molina, Johnny Depp, Carrie-Anne Moss, John Wood, Leslie Caron) – Classic Movie Review 935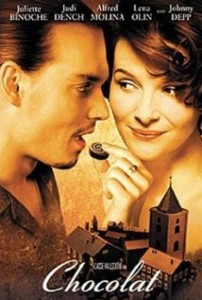 Director Lasse Hallstrom's sweet 2000 heart-warming wallow easily entertains the romantically inclined but he overeggs the soufflé with a miscalculated charm attack. Oscar-nominated Juliette Binoche is a very tasty morsel as Vianne Rocher, a free-spirited confectioner bringing her life-affirming ideas to an uptight post-war French village. But the dashingly handsome Johnny Depp is rotten as Roux, the travelling Irish tinker she falls for.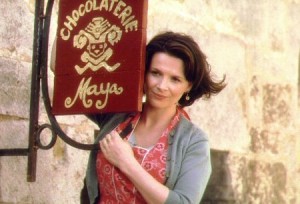 Binoche, the unmarried mother of a young girl Anouk (Victoire Thivisol), befriends a boy, Luc (Aurelien Parent-Koenig), with an uptight mother Caroline (Carrie-Anne Moss) and a spirited grannie Armande (Judi Dench) who is determined to try to enjoy her last years. Dench is also Oscar-nominated – for the third time – her first not for playing a British monarch!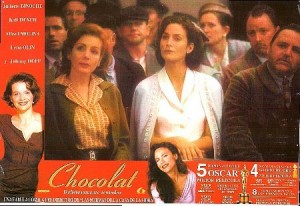 Alfred Molina is a bit patchy in a large part as Comte de Reynaud, the town mayor who thinks chocolate is decadent vice, while John Wood and Leslie Caron are wasted in silly old fool roles as Guillaume Blérot and Madame Audel. In a very handsome-looking movie photographed by Roger Pratt, rural France looks gorgeous enough to devour. All in all, it's a sweet confection.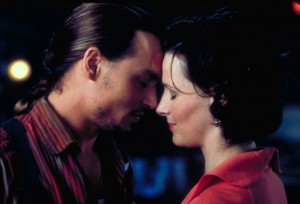 Robert Nelson Jacobs's effective screenplay is based on the bestselling novel by Joanne Harris. There were five Oscar nominations, but no wins.
Peter Stormare, Hugh O'Conor, Ron Cook and Lena Olin are also in the top cast.
© Derek Winnert 2014 Classic Film Review 935 derekwinnert.com