Child's Play ***½ (1988, Catherine Hicks, Chris Sarandon, Alex Vincent, Brad Dourif, Dinah Manoff) – Classic Movie Review 4144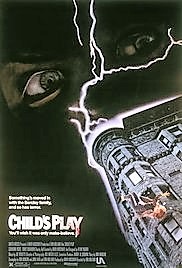 Co-writer/ director Tom Holland's disturbing, highly effective 1988 fantasy horror movie sees Brad Dourif as the dying serial killer Charles Lee Ray who gives his soul to Chucky the doll, a seemingly innocent plaything that embodies everyone's childhood fears about a monster under the bed that the adults don't believe in.
The horrible, creepy Chucky becomes the bosom buddy of a young lad called Andy (Alex Vincent) and the film's sequence of the doll's awakening should send shivers down most people's spines.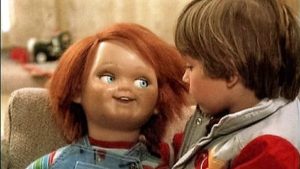 The film's knowing dark humour, the intelligent screenplay by Holland, Don Mancini and John Lafia, an eerie score by Joe Renzetti, Holland's suspenseful direction and the good-but-grisly special effects keep this several cuts above the average slasher movie.
Catherine Hicks, Chris Sarandon and Dinah Manoff (as mother, detective and babysitter respectively) do well to keep their characters credible and the anchor story firmly. After his character's demise, Dourif's role continues as the voice of Chucky. Child's Play is violent and gory, and ultra-disturbing because a child's toy is the monster, so keep the kids well away from it.
Costin h $9 million and grossing $33 million in the US, it was a hit, and proved the first in a trilogy that became a franchise. Child's Play 2 followed in 1990, the controversial Child's Play 3 in 1991 and Bride of Chucky in 1998.
The original cinema release (1989) was UK:15 (cut) but 2005 it was passed as UK:15 (uncut). In the US it has an MPAA rating R for horror violence and brief strong language (three F words).
© Derek Winnert 2016 Classic Movie Review 4144
Check out more reviews on http://derekwinnert