ChickLit ** (2016, Christian McKay, Dakota Blue Richards, Caroline Catz, Miles Jupp, David Troughton, Tom Palmer, Eileen Atkins, John Hurt) – Movie Review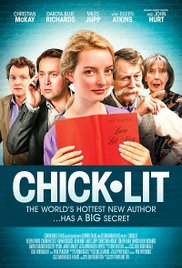 Christian McKay, Miles Jupp, David Troughton and Tom Palmer star as four guys trying to save their local pub from closing by writing a chick lit novel, Fifty Shades of Grey-style 'mummy porn'.
McKay takes it to cynical London literary agents (are there any other kind?) Eileen Atkins and John Hurt, and it improbably gets snapped up by its eager publisher who insists that its supposed young woman 'author' does publicity. The guys decide to hire out-of-work actress Zoe (Dakota Blue Richards) to 'role play' the part of the author, which leads to her becoming the star in the film of the book. The nice, old-fashioned young pub landlord Chris (Palmer) inevitably falls for Zoe, worrying about her morals.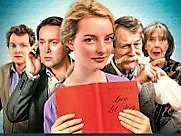 There's more corn than porn in the movie, but this is a harmless, well-meaning old-style comedy drama, with a reasonably good spirit and a reasonable number of laughs. There are some very good, welcome actors in the movie, but unfortunately some of them are slightly struggling with the material.
However, the star quartet work hard to make it work, Richards is fine and Caroline Catz is as bright as a button as McKay's sassy but long-suffering wife. But Niamh Cusack and Cathy Tyson are wasted. And it's a shame that James Wilby's gay bookshop owner, loving partner of Jupp, is a character out of Noah's Arc. Even this is well-meaning but it's the wrong well-meaning.
Talking of well-meaning, the film speaks up strongly for proper books and literature, and buying books at your local bookshop if you still happen to have one. For this timely message it must be forgiven some of its faults. Also the location filming in London, especially at Goodwin's Court, adds appeal.
Co-writer/ director Tony Britten also works hard to make it work. Would Mummy Porn be a better title? Maybe.
© Derek Winnert 2016 Movie Review
Check out more reviews on http://derekwinnert.com