Charlie Chan in London *** (1934, Warner Oland, Drue Leyton, Douglas Walton, Alan Mowbray, Mona Barrie, Ray Milland, E E Clive) – Classic Movie Review 5613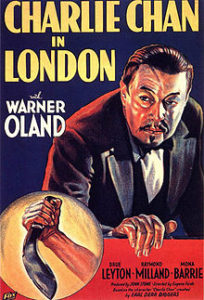 Director Eugene Forde's 1934 mystery thriller stars Warner Oland as the Oriental detective Charlie Chan in the sixth film in the long-running series produced by the Fox studio, and only the second not to be lost, after The Black Camel (1931).
It is tasty Chan fare set in Hollywood's fanciful of an England full of posh upper-class chaps and uncouth servants, as well as a dim country copper, E E Clive as Detective Sergeant Thacker, who keeps calling our hero Mr Chang. The plot is properly baffling as Charlie probes a country house killing among the English fox-hunting set.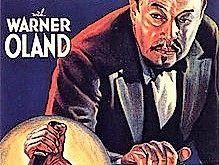 When a young Englishman is convicted of murder and sentenced to hang, his sister and her fiancé ask visiting detective Chan to investigate. So he sets off to the manor house where he finds a rich mixed bag of suspects from the housekeeper to the lawyer.
Also in the cast are Drue Leyton as Pamela Gray, Ray Milland as Neil Howard, Mona Barrie as Lady Mary Bristol, Douglas Walton as Paul Gray, Alan Mowbray as Paul Frank, alias Geoffrey Richmond, George Barraud as Major Jardine, Paul England as Bunny Fothergill, Madge Bellamy as Becky Fothergill, Walter Johnson as Jerry Garton, Murray Kinnell as Captain Seton (alias Phillips, the butler), Elsa Buchanan as Alice Perkins the maid, Reginald Sheffield as Flight Commander King, Perry Ivins as Assistant Home Secretary Kemp, John Rogers as Lake the chief groom, C. Montague Shaw as the doctor, David Torrence as the Home Secretary Sir Lionel Bashford, and Claude King as the RAF aerodrome commander.
Philip MacDonald writes the script for the first of the Charlie Chan films with an original screenplay, based on the character created by Earl Derr Biggers.
As a footnote, Robert Altman's film Gosford Park (2001), set in 1932, features a fictional character named Morris Weissman (played by Bob Balaban) who produces the Chan films for Fox and says he is in England to do research for this film and has come to Gosford Park to find out about British country house customs. Weissman mentions the film's real actors Alan Mowbray and Ray Milland, but Charlie Chan in London is in fact produced by John Stone not Weissman.
© Derek Winnert 2017 Classic Movie Review 5613
Check out more reviews on http://derekwinnert.com