Charlie and the Chocolate Factory *** (2005, Johnny Depp, Freddie Highmore, David Kelly, Helena Bonham Carter, Noah Taylor, Christopher Lee) – Classic Movie Review 1613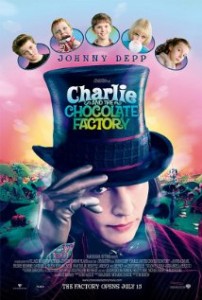 Director Tim Burton's 2005 version of the Roald Dahl family favourite is supremely sleek, tasteful, glossy and likeable, providing a great deal of pleasure if no real surprises.
But, though it is attractive and appealing, it is not outstandingly amusing or inventive, and shows after his Planet of the Apes (2001) that director Burton should leave remaking vintage movies alone and concentrate on his own enchanting individual thing.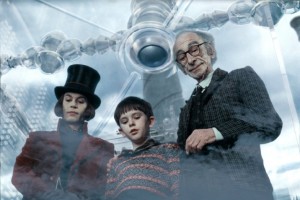 The ever-quirky and delightful Johnny Depp, in top hat and Prince Valiant bob, looks sweet enough to eat as chocolate factory owner Willy Wonka and gives a lot of fun value, though, with his too-young, pasty-faced, girly look, he is no replacement for the creepy and funny Gene Wilder in the 1971 version Willy Wonka and the Chocolate Factory.
But earnest little Freddie Highmore (Depp's co-star in Finding Neverland) is an ideal choice and spot on as Charlie Bucket, the chocoholic boy who is one of five children to win a ticket to tour Willy Wonka's magnificent chocolate factory and eventually melts his heart. Philip Wiegratz (Augustus Gloop), Julia Winter (Veruca Salt), AnnaSophia Robb (Violet Beauregard) and Jordan Fry (Mike Teevee) are all perfect as the other four children.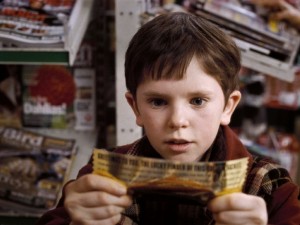 With its unnecessary flashbacks that add a feeling of over-length, the film enters the dangerous area of padding and over-egging the chocolate pudding schmaltz-wise. Though Danny Elfman contributes another of his essential, attractively oddball scores, his songs are a bit naff, making you long for the often-despised Leslie Bricusse tunes from the 1971 movie.
David Kelly, Helena Bonham Carter and Noah Taylor are all useful cast members as Grandpa Joe and Mrs and Mr Bucket. Depp's scenes with Christopher Lee as his dentist dad have a nice little electric charge.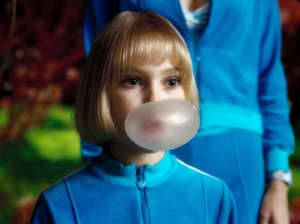 However, the film's ending is a wallow in marshmallow rather than chocs. And, just as with Planet of the Apes, Burton fails to make a true case for his remake but still makes a pleasing timepasser.
David Kelly died on , aged 82.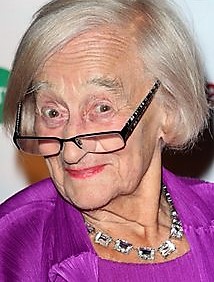 Liz Smith, who plays Grandma Georgina, died on 24 December 2016, aged 95.
© Derek Winnert 2014 Classic Movie Review 1613
Check out more reviews on http://derekwinnert.com/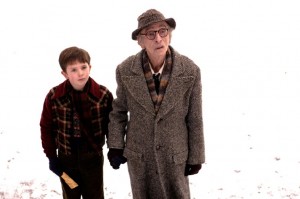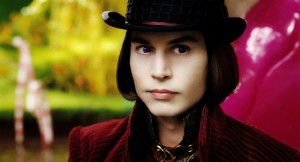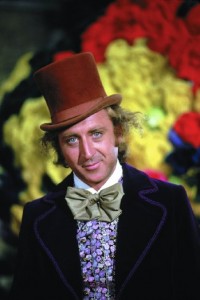 Gene Wilder in the 1971 version Willy Wonka and the Chocolate Factory.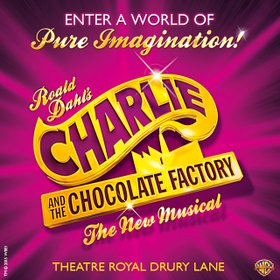 London West End production 2016.