Chaplin *** (1992, Robert Downey Jr, Geraldine Chaplin, Dan Aykroyd, Kevin Kline, Diane Lane, John Thaw, Anthony Hopkins) – Classic Movie Review 4348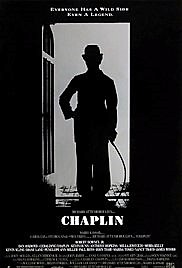 American actor Robert Downey Jr was a controversial choice in the UK as the British silent comic actor and movie star who astoundingly was once the most famous man in the world, both as an actor and a celebrity. But, surprisingly, Downey is a proper Charlie Chaplin and his brilliant impersonation, ageing convincingly from 20 to 80 is by far the most impressive element of this interesting but often sluggish, much re-written 1992 epic biopic. Downey shows what a tremendous actor he can be when there's proper work to be had.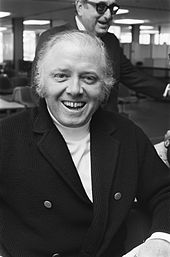 Director Richard Attenborough tells the tale of Charles Chaplin, whose simple, sentimental screen persona of The Little Tramp hid a complex, clever individual, in the same way as he did with his Gandhi biopic of Mahatma Gandhi by focusing on describing the colourful characters who influenced him and casting lots of well-known star names in cameo roles.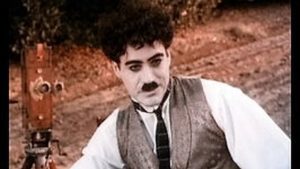 Among them are Charles Chaplin's real daughter Geraldine Chaplin playing his mother, Dan Aykroyd as producer Mack Sennett, Kevin Kline as Douglas Fairbanks Sr, Moira Kelly as Oona O'Neill, Marisa Tomei as Mabel Normand, Penelope Ann Miller as Edna Purviance, Maria Pitillo as Mary Pickford, Milla Jovovich as Mildred Harris, Kevin Dunn as J Edgar Hoover and Diane Lane as Paulette Goddard.
There are two or three famous Brits in John Thaw as impresario Fred Karno, Paul Rhys as Charlie's brother Sydney Chaplin and Anthony Hopkins as the publisher who narrates the tale, all of them effective, though they are outstripped by American actor Downey Jnr.
William Boyd, Bryan Forbes, William Goldman, Tom Stoppard and Diana Hawkins all worked on the screenplay of this adaptation of Chaplin's book My Autobiography and the former London Times film critic David Robinson's biography Chaplin His Life and Art. The screenplay is bright and informative in places, but it never quite comes together as an entirely satisfying coherent whole.
Also in the cast are Deborah Moore, Nancy Travis, James Woods, Hugh Downer, Nichoals Gatt, Bill Paterson, Anthony Bowles, Bryan Coleman, Howard Lew Lewis, P H Moriarty, Brian Lipson, Alan Ford, Thomas Bradford, Liz Porter, Marcus Eyre, Gerald Sim, David Gant, David Duchovny, Matthew Cottle, Benjamin Whitrow, Robert Stephens and John Standing.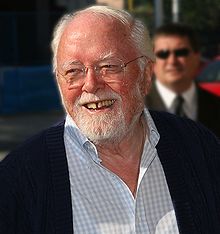 Richard Attenborough, The Right Honourable The Lord Attenborough Kt CBE, passed away on aged 90, in Denville Hall, London, the actors' home he had helped to found years earlier.
Co-screen-writer Diana Hawkins collaborated with Attenborough on his 2008 informal autobiography Entirely Up to You, Darling.
© Derek Winnert 2016 Classic Movie Review 4348
Check out more reviews on http://derekwinnert.com