Change of Habit ** (1969, Elvis Presley, Mary Tyler Moore, Barbara McNair, Edward Asner) – Classic Movie Review 4941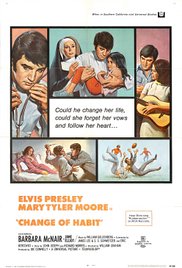 Director William A Graham's 1969 sincere but unsuccessful drama stars Elvis Presley as Dr John Carpenter, a doctor working in a free clinic in an inner city Puerto Rican sector. He gets involved with three Catholic nuns dressed as nurses, one of whom is speech therapy expert Sister Michelle Gallagher (played by Mary Tyler Moore). The Catholic Action Committee has sent the nuns to help Dr Elvis and make a difference.
And so Presley tries to change his Sixties film-making habit by making a non-musical, but alas the movie is a flop show, running like a pious advert for the Catholic Church, and in Britain it became the first American film to be sold straight to TV.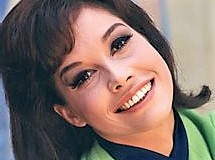 Elvis sings only four songs: 'Change of Habit' (music by Ben Weisman, lyrics by Buddy Kaye), 'Rubberneckin' (written by Dory Jones and Bunny Warren),  Have a Happy (written by Dolores Fuller), and 'Let Us Pray' (music by Ben Weisman, lyrics by Buddy Kaye), all of them dreadful. On the plus side though, the stars give skillful performances, and the film conscientiously tries to tackle some then sensitive issues such as ghetto life, mob intimidation, conflicts n the Catholic clergy and autism.
In his 31st movie, it was Elvis's last screen acting performance before his death on 16 August 1977, aged 42, though concert features followed. Moore and co-star Edward Asner (who plays Lieutenant Moretti) joined forces the following year for The Mary Tyler Moore Show (TV series 1970–1977), though here they share no scenes.
Also in the cast are Barbara McNair as Sister Irene, Leora Dana as Mother Joseph, Jane Elliot as Sister Barbara, Robert Emhardt, Regis Toomey, Doro Merande, Ruth McDevitt, Richard Carlson (in his final film before his death on 24 November 1977, aged 65), Nefti Millet, Laura Figueroa, Virginia Vincent, Bill Elliott and Rodolfo Hoyos.
It runs 93 minutes, is produced by NBC and Universal, is released by Universal, is written by James Lee, S S Paddy Schweltzer aand Eric Bercovici, is shot in Technicolor by Russell Metty, is produced by Joe Connelly, is scored by Billy Goldenberg and is designed by Alexander Golitzen.
Elvis started making movies back in 1956 with Love Me Tender.
Elvis was paid $850,000 plus 50 per cent of the film's profits in a deal with NBC that included his 1968 TV Comeback Special.
'Rubberneckin' was not recorded for this film but recorded at Elvis's Memphis sessions at American Sound Studios in 1969 and is the B side to his million seller 'Don't Cry Daddy'.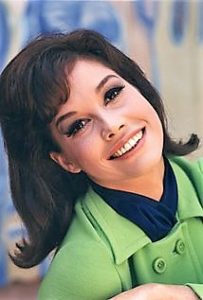 It is Mary Tyler Moore's last film until Ordinary People (1980) 11 years later. The delightful and talented Mary Tyler Moore died of diabetes on 25 January 2017, aged 80. She won a Tony Award for her performance on Broadway in Whose Life Is It Anyway?
© Derek Winnert 2017 Classic Movie Review 4941
Check out more reviews on http://derekwinnert.com