Champion **** (1949, Kirk Douglas, Arthur Kennedy, Marilyn Maxwell, Paul Stewart, Ruth Roman, Lola Albright) – Classic Movie Review 2365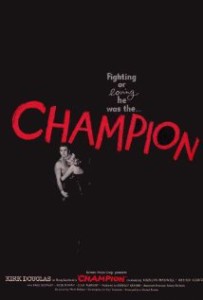 Director Mark Robson's ultra-gripping classic 1949 boxing drama about ruthless rising to fame in the fight game provided Kirk Douglas with his first out of three Best Actor Oscar nominations. Although in the event the movie won only the one for Best Film Editing (Harry Gerstad) out of six nominations.
=
The youngish, certainly young-looking Kirk Douglas (though he was already 33) gives one of his finest, most impressive performances ever, humanising an unsympathetic role as Midge Kelly, an unscrupulous heel of a boxer, who punches his way to the top by stepping on other people. After seven movies in three years, it finally turned Douglas into a hot star to reckon with.
His bravura performance is the heavyweight keystone of the movie, but the supporting actors give it lots of impact too. Oscar nominated as Best Supporting Actor, Arthur Kennedy plays Midge's whingeing, handicapped younger brother Connie, who is one of the family and friends he forsakes on his way up. Paul Stewart plays Midge's manager Tommy Haley, who spots his promise. Both actors are outstanding.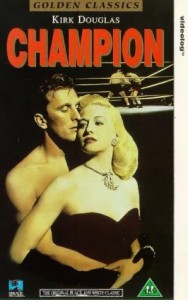 Midge and Connie arrive in California, where Midge can find only a menial job which he brightens up by seducing lovely young waitress Emma (Ruth Roman). Midge has a shotgun marriage and falls back on boxing, lured by the money, adulation and women he attracts.
Carl Foreman's screenplay rather tones down the harsh edges and cold heart of Ring Lardner's short story by giving excuses for Midge's appalling behaviour, showing him fighting his own demons. But the story is still powerful material that packs a huge punch.

Shot in just 20 days, Robson's movie is a particularly flashy and stylish piece of film noir-style movie-making. Along with Harry Gerstad's Oscar-winning film editing, Franz Planer's black and white cinematography and Dimitri Tiomkin's score are the other outstanding technical elements, both Oscar nominated. Planer's cinematography won the 1950 Golden Globe Best Cinematography Black and White.
Also in the cast are Lola Albright, whose character of Palmer is spurned by Kirk Douglas's back-stabbing Midge Kelly, Marilyn Maxwell, Luis Van Rooten, John Day and Harry Shannon.
It was a profitable hit. On a low-budget $500,000 cost, it earned $2.5 million.
Kirk Douglas (born Issur Danielovitch) was also nominated for a Best Actor Oscar for The Bad and the Beautiful (1952) and Lust for Life (1956), and won a 1996 Honorary Award 'For 50 years as a creative and moral force in the motion picture community.' He celebrated his 100th birthday on 9 December 2016. He has appeared in more than 90 movies, and in 1960 helped to end the Hollywood Blacklist.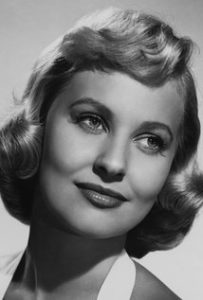 Lola Albright died on 23 March 2017, aged 91. She also starred in The Tender Trap (1955) with Frank Sinatra and Kid Galahad (1962) with Elvis Presley.
© Derek Winnert 2015 Classic Movie Review 2365
Check out more reviews on http://derekwinnert.com