Chained *** (1934, Joan Crawford, Clark Gable, Otto Kruger, Stuart Erwin, Una O'Connor, Akim Tamiroff Marjorie Gateson, Lee Phelps, Ward Bond) – 4949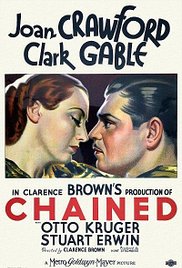 Sexy superstars Joan Crawford and Clark Gable reunite to sizzle under director Clarence Brown's delicate touch in this 1934 story of Diane Lovering (Crawford)'s love for rich Argentinean rancher Mike Bradley (Gable). Her love affair is complicated by her simultaneous fancy for romance with rich shipping boss Richard I Field (Otto Kruger), who is married to Louise Field (Marjorie Gateson). Torn between the two men, Diane can't make up her mind. Who is she going to end up with?
The love triangle story by Edgar Selwyn is nothing new, but the all-round excellent performances keep the movie bubbling along nicely. Crawford is especially vivacious, even with the feathery script letting her down most of the time. Crawford once again shares special screen chemistry with Gable, who is charming, but Kruger out-acts him.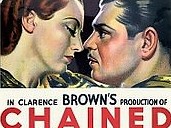 An unbilled Keenan Wynn supposedly plays Crawford's double in the speedboat sequence years before his first movie credit.
Also in the cast are Stuart Erwin as Mike's wise-cracking buddy Johnnie Smith, Una O'Connor, Akim Tamiroff, Lee Phelps, Ward Bond, Chris-Pin Martin, and Mickey Rooney.
It runs 75 minutes, is released by MGM, is written by John Lee Mahin, is shot by George J Folsey, is produced by Hunt Stromberg and is scored by Herbert Stothart.
It is the fifth of eight movies that Crawford and Gable made together.
© Derek Winnert 2017 Classic Movie Review 4948
Check out more reviews on http://derekwinnert.com