Chain Lightning *** (1950, Humphrey Bogart, Eleanor Parker, Raymond Massey) – 4950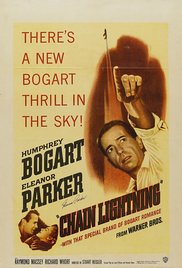 Humphrey Bogart stars in this 1950 aerospace film as lieutenant colonel Matt Brennan, a World War Two war flying ace picked in 1945 to test a new jet in an Alaska-Washington flight by Leland Willis (Raymond Massey), the aircraft corporation mogul he works for.
Bogart is in love with wartime Red Cross heroine Jo Holloway (Eleanor Parker), who now works as Raymond Massey's personal assistant.
The heady mixture of heroism plus romance, as well as the usual high level of performance from the Warner Bros stalwart cast, keeps director Stuart Heisler's pacy, sparky enough, well produced movie on track and in the air.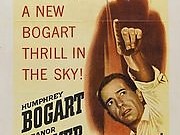 What the film is minus is Bogart's usual charismatic, inspired turn. He seems to be sleepwalking through this one, seemingly aware that there is nothing special about it and not looking at all right in an aviator's costume. But excellent work from Massey makes up for it.
The original story These Many Years was originally credited to J Redmond Prior, which was a pseudonym for the blacklisted writer Lester Cole.
Also in the cast are Richard Whorf, James Brown, Roy Roberts, Morris Ankrum, Fay Baker, Fred Sherman, Claudia Barrett, John Crawford, Herschel Doughtery, Mike Donovan, Creighton Hale, Sam Harris, Clark Howatt, John Morgan, Peter Ortiz, Lonnie Pierce, Joey Ray, Jack Reynolds, John Rogers, Clarence Straight, Henry Vroom, Tommy Walker and Alan Wood.
it runs 95 minutes, is released by Warner Bros, is written by Liam O'Brien and Vincent B Evans, is shot in black and white by Ernest Haller, is produced by Anthony Veiller, is scored by David Buttolph and designed by Leo K Kuter.
© Derek Winnert 2017 Classic Movie Review 4948
Check out more reviews on http://derekwinnert.com