Central Intelligence ** (2016, Dwayne Johnson, Kevin Hart, Danielle Nicolet, Amy Ryan, Jason Bateman, Aaron Paul) – Movie Review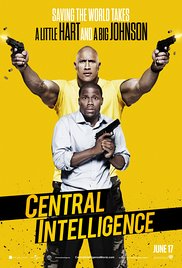 Co-writer/ director Rawson Marshall Thurber's harmless, raucous, lowbrow, awfully silly 2016 buddy movie pairs Dwayne Johnson and Kevin Hart. If you really love both of them, that will be the good news.
They're the current Little and Large of comedy. But there's way too much reliance on the little Hart and big Johnson idea. Why is little and large comedy funny? It is essentially the comedy of discomfort, playing on prejudice, the very thing the movie seems to be against.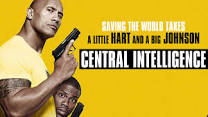 In this throwback to Nineties farcical action comedies that would probably have starred Arnold Schwarzenegger and Danny DeVito back then, Kevin Hart stars as a nice, mild-mannered accountant called Calvin Joyner, who is lured into the world of international espionage after he reunites with weird, stalking old school buddy Bob Stone on Facebook.
There are two different stories here in Central Intelligence, just banged together like the proverbial strange bedfellows, reflecting the odd couple pairing of Joyner and Stone.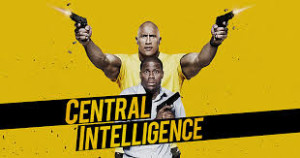 The first is set out in the prologue, when Stone is ultra-fat and humiliated at high school by bullies in a naked basketball incident. Twenty years later, it turns out he's spent the intervening decades in the gym, and is now super-fit. He remains a sensitive sort of soul, with John Hughes's Sixteen Candles his favourite movie, but he can't stand bullies, and, boy, he's big and scary once roused.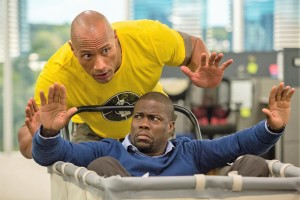 This story has basis in reality, truthful, thinking person's comedy. The second story is the much-used, ridiculous plot about the innocent man s forced to join the CIA because, because, whatever… Reality is left so behind it isn't even an issue.
Yes Stone is now a CIA and Joyner is threatened by, oh whatever, as Amy Ryan's Agent Pamela Harris comes after him and Stone.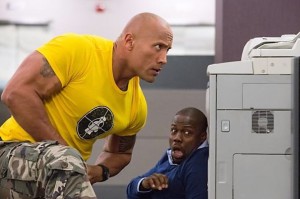 It's not that there are not a lot of laughs in Ike Barinholtz, David Stassen and Thurber's screenplay. There are. It's just that Hart's brand of comedy is so darned annoying it's hard to warm to the movie. He's on the level of, say Melissa McCarthy as infuriating when he gets into comedy overdrive.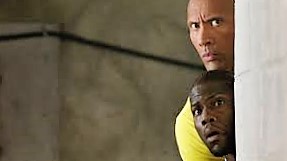 However, it is some very considerable relief that for long it seems he's going to coast along nicely in relaxed mode. But, no, he can't resist. It's just the calm before the storm. And once the comedy overdrive starts, he's lost me. Could Hart be an engaging, warm performer if he just calmed down and took it ten notches lower? Well, maybe.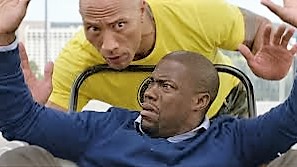 The Rock has long since learned to relax. His brand of comedy and way with one-liners is cool and expert. But just having one funny man in this comedy double act doesn't do it. Though, to be fair, they both pull great funny faces.
And the film toys with the idea of cool, and tries to be cool, but ends up, as the man leaving the cinema behind me said: 'desperately uncool'.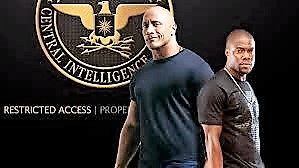 Surprisingly, Jason Bateman scores a complete miss with his performance as mean old Trevor, the grown-up version of the bully boy who tormented Stone at school. So that must be the script's fault. And Aaron Paul as agent Phil cuts no ice either. Amy Ryan is brisk and efficient but not funny. She's not required to be. She's just required to be there. She's the straight man to the comedy duo's double act. There's a lot of her but it's a thankless task.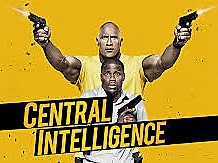 There's also a guest cameo at the end, as Stone heads back for a high school reunion and the movie resumes its first story with the CIA capers exhausted. He meets a girl there he once knew, played by ? I was going to spoil it for you, but that would make mean like Trevor.
I think I might have liked the first movie, with Johnson in a film about a boy tormented at school, who returns for his 20-year high school reunion to deal with the bullies and rest his demons. We've seen this story many times before, too, but Johnson could have made it funny and appealing.
© Derek Winnert 2016 Movie Review
Check out more reviews on http://derekwinnert.com