Celebrity *** (1998, Kenneth Branagh, Judy Davis, Leonardo DiCaprio, Melanie Griffith, Joe Mantegna, Winona Ryder, Charlize Theron, Hank Azario, Famke Janssen) – Classic Movie Review 1037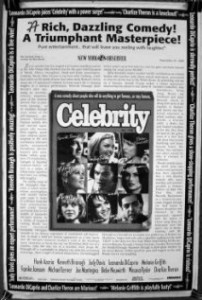 Celebrity has to be counted a bit of an intriguing flop in 1998 from writer-director Woody Allen (who doesn't appear, which is always bad news). Kenneth Branagh is miscast and struggling in what amounts to the Allen role as a dazed and confused writer who comes up with a script for a selfish, wilful, destructive young screen star (a just post-Titanic, ultra-popular Leonardo DiCaprio).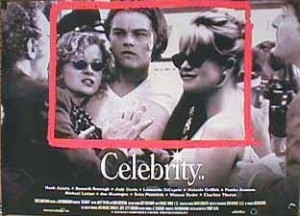 Branagh plays Lee Simon, talented but unsuccessful journalist and would-be novelist, who tries to get a foot in the door by courting celebrities. After divorcing his dizzy wife Robin (Judy Davis), Lee meets the rich and beautiful people via his journalism and the script he's written. But, in Allen's plot, while nothing goes right for the Branagh character, ironically the dizzy ex-wife meets a desirable TV producer and lands a great TV interview job.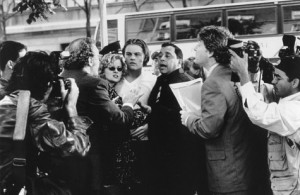 This should be an ideal subject for one of Allen's bitter-sweet comedies, but there are surprisingly few laughs and there is disappointingly little new insight into the nature of the title beast of celebrity in what amounts to no more than a series of scenes looking for a plot, wit and ideas. It finds some of all of these, but maybe not enough.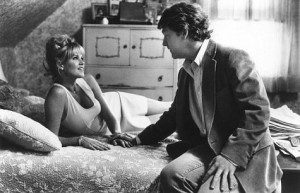 Still, there are some good scenes and excellent performances, as you'd expect from Allen and such a classy cast, and Sven Nykvist's black and white cinematography looks a treat. Melanie Griffith gets to play a movie star, which she also does in Cecil B Demented (2000).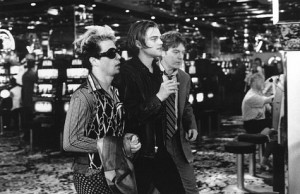 DiCaprio, Davis and Griffith are ideal, and their performances help keep it interesting. There's an unbelievable starry cast and the film's worth checking out for them alone: Joe Mantegna, Winona Ryder, Charlize Theron, Hank Azario, Famke Janssen, Michael Lerner, Bebe Neuwirth, Larry Pine, Marian Seldes, André Gregory, Gretchen Moll, Dylan Baker, Sam Rockwell, Allison Janney, Celia Weston, Aida Turturro, Kate Burton, Patti D'Arbanville, Debra Messing, Donna Hanover, Karen Duffy, Donald Trump and Jeffrey Wright.
©Derek Winnert 2014 Classic Film Review 1037
Check out more reviews on derekwinnert.com