Cats & Dogs *** (2001, Jeff Goldblum, Elizabeth Perkins, Miriam Margolyes, Alexander Pollock, voices Tobey Maguire, Alec Baldwin, Sean Hayes, Susan Sarandon) – Classic Movie Review 4326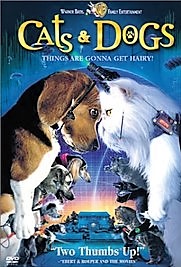 There are lots of hilarious moments in director Lawrence Guterman's 2001 happy family action comedy movie experience that is basically Babe meets Mission: Impossible.
Sorry cat lovers! In the war between cats and dogs, our feline friends are the bad guys and canines the lovable heroes for this seamlessly realised mix of live action, computer effects and animatronics.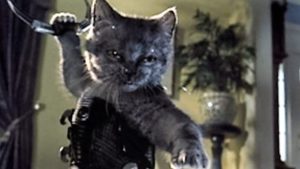 A pup called Lou the Beagle (voice of Tobey 'Spider-Man' Maguire) becomes a secret agent as America's cats, led by sleek, evil, 007-style snow white Persian pussy Mr Tinkles, plot to take over the world, with nutty scientist Professor Brody (Jeff Goldblum)'s formula making humans allergic to dogs.
At its best it is like a live Tom & Jerry cartoon with a little bit of a true story. At its worst, with its many hilarious moments broken up by some dull spots in a patchy movie, it is like one of Disney's treacly family comedies. The writers are John Requa and Glenn Ficarra.
It is hard to believe, maybe, but this simple, unassuming little movie took $93 million at the US box office. Ah, well, funny is funny, you can't knock it. Dog lovers and kids will adore it.
© Derek Winnert 2016 Classic Movie Review 4326
Check out more reviews on http://derekwinnert.com