Catch Me If You Can ***** (2002, Leonardo DiCaprio, Tom Hanks, Christopher Walken) – Classic Movie Review 175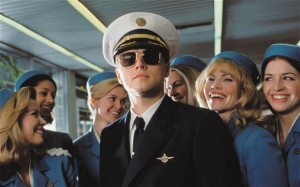 Steven Spielberg's 2002 spellbinder proved one of his best films in years. It's an ultra-delicious, super-vibrant entertainment with Leonardo DiCaprio and Tom Hanks perfectly cast and on fire as a real-life con artist and the dogged FBI agent, Carl Handratty, who chases him.
At 16, Frank Abagnale Jr (DiCaprio) poses as a teacher, starting a brilliant career in crime in which he masquerades as an airline pilot, a surgeon and a lawyer, living by cashing forged cheques. Working in 26  different countries, he thus manages to extort $2,500,000. Especially given the extremes of some of the situations, DiCaprio gives a subtle, confident, exuberant performance, managing to seem 16 at the age of 28, and then grow up convincingly.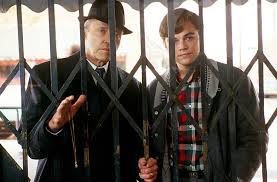 Hanks finds truth and humanity in a slightly more one-dimensional, less rewarding part that he's absolutely ideal for. And, at long last, Christopher Walken (Oscar nominated, BAFTA-winner) gets a role truly worthy of him as DiCaprio's father, Frank Abagnale Sr, who's also being hounded for fraud. The apple hasn't fallen far from the tree, apparently, though dad's a bit of a sad loser and junior is a happy one.
Jeff Nathanson makes a lovely job of adapting the presumably biased source book by Frank Abagnale Jr and Stan Redding for the screen, keeping a long saga dynamic and fascinating.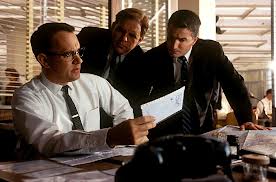 Something must have inspired Spielberg with this material. It's made him young again. He directs like he's making his first movie, throwing everything into it and all his muscle behind it with gay abandon. He ensures it's a youthfully vivacious, stupendous-looking, catchy-sounding movie, with marvellous title-sequence credits (by Olivier Kuntzel), set designs (Sarah Knowles, Peter Rogness, Michele Laliberte), cinematography (Janusz Kaminski) and score (Spielberg's regular composer John Williams).
Catch it while you can!
Two Oscar nominations – for Christopher Walken as Best Supporting Actor and John Williams for Best Score – but no wins.
© Derek Winnert Classic Film Review 175 derekwinnert.com