Cat on a Hot Tin Roof ***** (1958, Paul Newman, Elizabeth Taylor, Burl Ives, Judith Anderson) – Classic Movie Review 174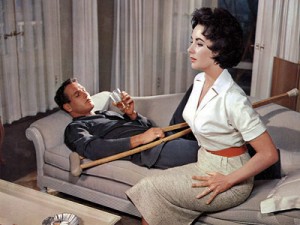 Elizabeth Taylor stars as the sexy, taunting hussy Maggie the Cat, plotting to re-arouse the limp sexual interest of her sulky, alcoholic, gay husband, Brick Pollitt (Paul Newman). Brick is reunited with his father Big Daddy (Burl Ives), the southern patriarch the end all southern patriarchs, to celebrate his 65th birthday. But, unknown to the old man, he is dying of cancer.
All three actors are nothing short of stupendous in this scalding, searing 1958 movie version of Tennessee Williams's famed 1955 Pulitzer prize-winning play. Taylor and Newman are at the height of their acting powers and their astonishing beauty.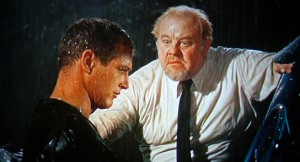 It's a quintessential Williams story about a rich, dying Mississippi plantation owner and his grasping family, focusing on a son struggling with his alcoholism, homosexuality and family demons, and his strained, childless marriage to a manipulating man-eater. It finds them at a crucial time for old memories and new revelations.
Writer-director Richard Brooks (once a cinema giant, now a totally forgotten name) helped to adapt the text and slightly blanded it out to suit the censorship of the day. But fortunately this doesn't spoil the movie. The husband's homosexuality is fudged but still reasonably clearly indicated, as Maggie tries to lure Brick away from his obsession with his dead 'best friend'.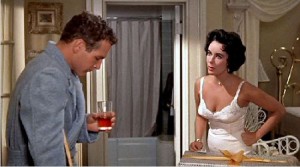 These were still the days of the hypocritical 50s when it was the love that dared speak its name but the movies wouldn't let it. Williams himself certainly hadn't yet come out of the closet. Yet the film's still very heated and torrid, remaining true to the spirit of Williams. The following year's Suddenly Last Summer (1959) also suffered from this censorship, even with a script by Gore Vidal.
It's exciting that the play eases over onto the screen apparently effortlessly, with no strain of trying to open out a filmed play to make it 'cinematic'. The film simply is cinematic. Brooks's direction is just right, intense, moody and atmospheric, with beautiful colour cinematography by William H Daniels.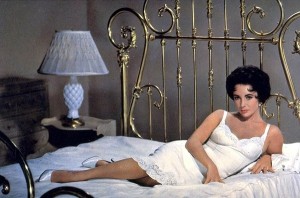 Pushing themselves and the material to the max, Newman and Ives are stirring in their very different ways, giving among the best performances of both their careers, though the film's main revelation is Taylor's wonderfully fiery and sexy performance as Maggie the Cat. Wow, she's a firecracker! The fourth outstanding turn comes from Dame Judith Anderson (Mrs Danvers in Rebecca), who is incredibly chilly, as only she could be, as Big Momma.
It was the fifth Tennessee Williams play to be filmed. Acknowledged as one of a handful of great American playwrights, he was huge deal at the time, and fortunately he still is.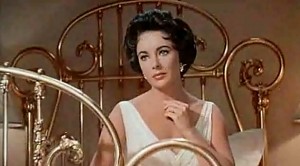 There were six Oscar nominations (best actor Newman, best actress Taylor, cinematography for Daniels, best director Brooks, best film for producer Lawrence Weingarten, best adapted screenplay for Brooks and James Poe, but alas it all came to nought and there were no wins. Taylor and Newman were nominated at the Baftas and didn't win. Brooks and the film were nominated at the Golden Globes and didn't win.
Memorably remade for TV in 1976 with Laurence Olivier, Natalie Wood, Robert Wagner and Maureen Stapleton and an official teleplay by the playwright himself and again in 1985 with Jessica Lange, Tommy Lee Jones, Rip Torn and Kim Stanley.
(C) Derek Winnert 2013 Classic Film Review 174 derekwinnert.com