Casualties of War ***** (1989, Michael J Fox, Sean Penn, Don Harvey, John C Reilly, John Leguizamo, Sam Robards, Ving Rhames) – Classic Movie Review 4429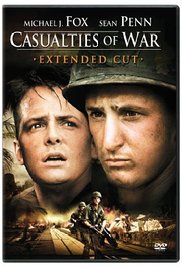 Director Brian De Palma's 1989 movie is one of his half-dozen masterworks. Indeed it is a flawed masterpiece, and will come as a serious surprise to those who know De Palma only for Carrie, Blow Out, Scarface, The Untouchables, Carlito's Way and Mission: Impossible.
Michael J Fox stars as the decent American soldier Eriksson, who is horrified at the atrocities perpetrated by a sergeant, Tony Meserve (Sean Penn), and three other soldiers on his patrol during the Vietnam War, particularly their appalling attack on a Vietnamese girl, Oanh (Thuy Thu Le).
[Spoiler alert] The five American soldiers take the girl from her village and four of them rape her. But Eriksson refuses and, after the girl is killed, he determines justice should be done.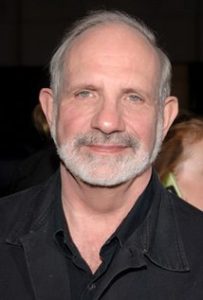 It is a brilliant film but not a perfect one, and has its downsides. De Palma's movie is brio film-making, operatic in style and overwrought in delivery, as usual with this director, with his fondness for stylised slow motion and spattering blood getting in the way of his story. David Rabe's screenplay, based on a real-life incident publicised in Daniel Lang's New Yorker article, is powerful, striking and provocative but it is also untidy and sometimes woolly, with an embarrassing ending.
Nevertheless, for most of the time, this is a thoroughly worthwhile, intelligent and exciting anti-war film, tackling head on the sharp end of the conflict and dealing with the tricky wartime moral issues almost unrecognised before this by Hollywood.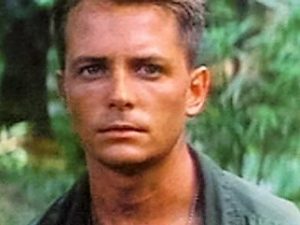 De Palma ensures that the normally just amiable Fox is stretched to give a very strong performance and the perhaps more talented and more wayward actor Penn is even better. Neglected at the US box office where it took $18.6 million on a cost of $22.5 million, Casualties of War is a controversial, challenging, thought-provoking and important movie. It is perhaps just a shade more impressive than the more lauded Platoon (1986), but quite not as brilliant as the lesser known Salvador (1986), though there is very little in it, and of course comparisons are odious.
Also in the cast are Don Harvey as Corporal Thomas E. Clark, John C Reilly as PFC Herbert Hatcher, John Leguizamo as PFC Antonio Diaz, Erik King, Jack Gwaltney, Sam Robards, Ving Rhames, Dale Dye and Dan Martin.
Stephen H Burum's cinematography and Ennio Morricone's score are classy assets.
 xtended Cut.
© Derek Winnert 2016 Classic Movie Review 4429
Check out more reviews on http://derekwinnert.com