Castle of the Living Dead [Il castello dei morti vivi] **½ (1964, Christopher Lee, Gaia Germani, Philippe Leroy, Donald Sutherland) – Classic Movie Review 4447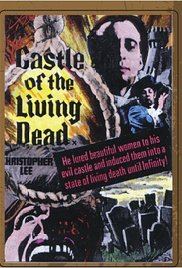 Director Luciano Ricci's 1964 black and white Italian Gothic horror movie is creaky but interesting and full of eerie atmosphere.
And, thankfully, it stars Christopher Lee as the creepy Count Drago, owner of the Castle of the Living Dead, where a band of circus players makes the mistake of hoving up. Lee is busy mummifying animals when the circus folk appear. But he soon transfers his attentions to the new arrivals.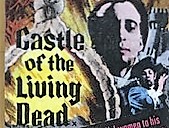 Donald Sutherland (in his second movie) has three parts, as a soldier (Sergeant Paul), the old man and a witch.
Also in the cast are Gaia Germani, Philippe Leroy, Mirko Valentin, Renato Terra, Antonio De Martino, Luciano Pigozzi and Jacques Stanislawski.
The director Ricci is credited as Herbert Wise. It is written by Warren Kiefer.
Michael Reeves worked on it as second assistant director, after which producer Paul Maslansky hired him to direct The She Beast (1966).
After that, Reeves made just two more films, The Sorcerers (1967) and Witchfinder General (1968), before he died by accident from a small overdose of doctor-prescribed pills on February 11 1969 in London, aged only 25.
© Derek Winnert 2016 Classic Movie Review 4447
Check out more reviews on http://derekwinnert.com