Casino ***** (1995, Robert De Niro, Sharon Stone, Joe Pesci, James Woods, Don Rickles, Alan King) – Classic Movie Review 83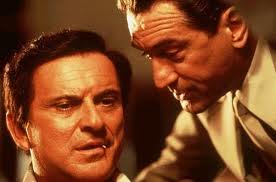 Actors Robert De Niro and Joe Pesci (again playing canny and crazed gangsters), director Martin Scorsese and writer Nicholas Pileggi take up where they left off in Goodfellas, taking a gamble on retreading old ground, worn thin not only by that extraordinary movie but also by so many others, and by the Las Vegas mob action that's now the stuff of so many TV thrillers. Nevertheless, Casino (1995) is an astonishing, even astounding movie, three relentless bravura hours of mobster love and pain and the whole damn thing.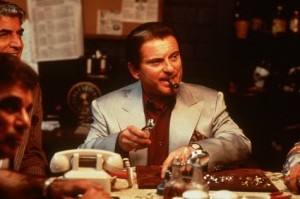 De Niro plays another real-life character, Sam 'Ace' Rothstein, a high-profit Jewish hood despatched to Vegas by the east coast Italian mafia to run one of the main casinos, the Tangier, in the "good old days" of the mob heyday in the 60s. Unfortunately he picks his friends wisely but not well – renegade sadist Nicky Santoro (Pesci), sent to guard Ace (De Niro) by the same mob "back home" who are creaming off the casino's profits, and upmarket hooker Ginger McKenna (Sharon Stone), who loves small-time wastrel Lester Diamond (James Woods), but agrees to marry besotted Ace (De Niro) for his protection, power and of course money.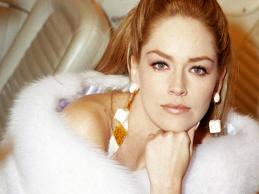 It's a highly volatile mixture that can only result in the most unpleasant of explosions, and indeed the movie starts with a bang, blowing De Niro up in a car blast in 1983, and ends with a whimper beloved of ironists in gangster movies. In between there's a fast-moving rollercoaster of greed and sadism ruling glamorous but desperate lives, filmed in one bravura sequence after another.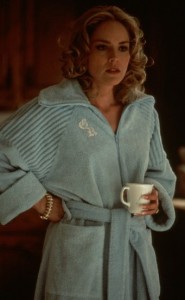 Episodic it may be, as the chronicle unfolds over a period of years, but the episodes are incisively written and bitingly acted by a cast so perfect that they seem actually to be their roles not to be simply performing them. The complex narrative line is crystal clear, with the large cast of fully-fleshed characters sharply delineated and satisfyingly developed.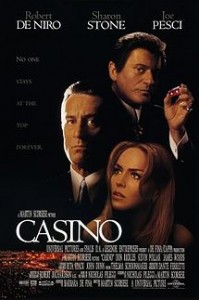 Scorsese's direction is as relentlessly pointed and cutting as his vision, an appallingly dark view of the world where only the basest of emotions drive the human race along, and Vegas is the perfect symbol of mankind, with the desert around it portrayed as its dark, stinking dustbin where the detritus of pulped-up dead bodies, sometimes only half-dead bodies, can be discarded in hastily dug pits. Characters meantime talk of love and loyalty and respect, but they only exist when they are bought or inspired by fear, while naturally the Vegas law and state politicians are just as corrupt (though obviously less colourful and interesting to Scorsese) and greedy as the mob.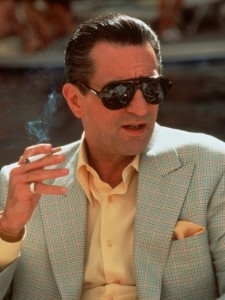 Yet Scorsese views the nasty scene with considerable tolerance and a certain admiration, seeming to respect the De Niro character, the old-fashioned gangsters, their code for life and whole the Las Vegas world of this already distant period – much in the way that John Ford or Sam Peckinpah admired the not entirely attractive ethos of the cowboys and the vanished West. For indeed Casino can be seen as a modern-day Western.
Scorsese shows total command of the medium, delivering a red-hot film that's technically incredible. Peppered with the most startling of images, veering wildly but effortlessly from the realistic to the stylised, it is photographed lovingly and cut perfectly, with a constantly restless camera always seeking out the best shot, the most amazing angle. It's all highly energised, electrically charged and propelled along by a vibrant and telling soundtrack of pop hits of the time.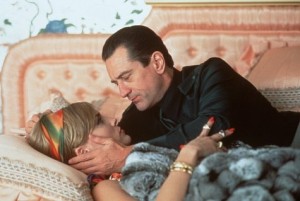 Maybe you don't expect to find Sharon Stone in a Scorsese movie, but she holds her own commendably in a performance of considerable power and range, coping admirably in hard-to-handle emotional scenes with both De Niro and Pesci, the best in the business at this kind of film. The daring twin narration by De Niro and Pesci really works thanks to their contrasting voices and personalities, while Saul and Elaine Bass's apocalyptic credit sequence to Johann Sebastian Bach's 1727 St Matthew Passion (Matthäus-Passion) is highly effective.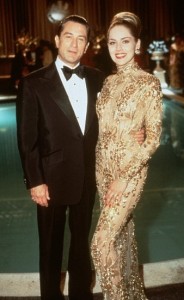 Despite some stomach-churning scenes, especially Pesci's infamous head-in-the-vice torture, it's still a film packed with humour, compassion and vast excitement, adding up to a great entertainment for all fans of the gangster movie and a welcome return by Scorsese to what he does best after the (admittedly fascinating) by-ways of Cape Fear and Age of Innocence. Above all the film gives a real flavour of how it must have been in Vegas's golden days. If it wasn't like this, it should have been. Scary, huh?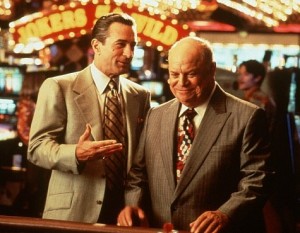 Also in the cast are James Woods as Lester Diamond, Don Rickles (as Billy Sherbert), Alan King, Kevin Pollak, L Q Jones, Frank Vincent (as Frank Marino), John Bloom, Melissa Prophet, and Dick Smothers.
It's the eighth collaboration between Scorsese and De Niro, following Mean Streets (1973), Taxi Driver (1976), New York, New York (1977), Raging Bull (1980), The King of Comedy (1983), Goodfellas (1990) and Cape Fear (1991).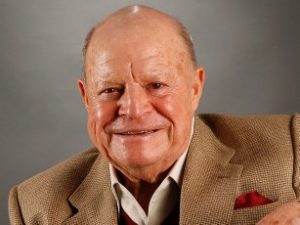 Don Rickles died on 6 April 2017, aged 90. Scorsese said: 'He's irreplaceable. He made comedy into an art form.'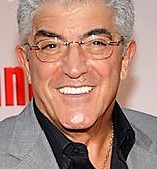 Frank Vincent died on 13 aged 78. He also played in Scorsese's Raging Bull (1980) and Goodfellas (1990). His other films include The Pope of Greenwich Village (1984), Brian De Palma's Wise Guys (1986), Spike Lee's Do the Right Thing (1989) and Jungle Fever (1991), Sidney Lumet's Night Falls on Manhattan (1996), James Mangold's Cop Land (1997), Shark Tale (2004) and Chicago Overcoat (2009).
http://derekwinnert.com/cape-fear-1991-classic-film-review-177/
http://derekwinnert.com/goodfellas-classic-film-review-58/
http://derekwinnert.com/raging-bull-1980-robert-de-niro-best-actor-oscar-classic-film-review-874/
© Derek Winnert 2013 Classic Movie Review 83
Link to Derek Winnert's home page for more film reviews: http://derekwinnert.com/