Captain Kidd *** (1945, Charles Laughton, Randolph Scott, Barbara Britton, Reginald Owen, John Carradine, Gilbert Roland, Sheldon Leonard, Henry Daniell, John Qualen) – Classic Movie Review 4803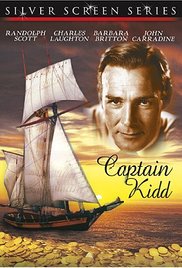 Director Rowland V Lee's lively if slack and unhistorical 1945 adventure movie has the great virtue of starring the incomparable Charles Laughton.
He enjoys a fine old time in a lip-smacking over-the-top display of dynamic rough acting as the treacherous Cockney pirate chief Captain William Kidd, who tricks King William III (Henry Daniell), the British monarch from 1689 to 1702, into commissioning him as the escort for a treasure ship from India.
It is a shame that the trite screenplay by Norman Reilly Raine (from an original story by Robert N Lee) and Benedict Bogeaus's shoddy production add up to a poorly concocted movie. It really could have looked classier with $1,500,000 spent on it, though Archie Stout's black and white photography is handsome enough.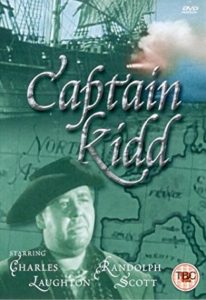 However, the film is still quite a lot of fun, no worse than Laughton's other pirate malarkey in Hitchcock's Jamaica Inn really (though obviously not in the same league as his Mutiny on the Bounty). That is mainly thanks to the efforts of director Lee, star Laughton, the welcome co-stars in Randolph Scott as gunner Adam Mercy, Barbara Britton as Lady Anne Dunstan, Reginald Owen, John Carradine (a standout as Orange Povey), Gilbert Roland, Sheldon Leonard, Henry Daniell and John Qualen, and the dependable character actor supporting cast.
Also bright and entertaining is Werner Janssen's classy score, which swung an Oscar nomination for Best Music, Scoring of a Dramatic or Comedy Picture.
Also in the cast are Miles Mander, William Farnum, Abner Biberman, Clifford Brooke, Harry Cording, Lumsden Hare, Al Hill, Keith Hitchcock, Edgar Norton, Reginald Sheffield, Ray Teal and Frederick Worlock.
Bogeaus is my favourite name for a film producer, apart maybe for Herman Schlom.
The copyright was not renewed in 1972 and the film is in the public domain.
The film is a fictional version of the story of William Kidd, who was born in Scotland in 1645, and became a pirate in 1696, capturing and looting many ships. He was sent to England, tried and convicted for piracy and murder, and hanged in 1701.
© Derek Winnert 2016 Classic Movie Review 4803
Check out more reviews on http://derekwinnert.com