Captain Fantastic **** (2016, Viggo Mortensen, George MacKay, Samantha Isler, Frank Langella, Kathryn Hahn, Steve Zahn) – Movie Review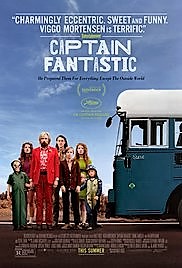 Viggo Mortensen rejoices in one of his most richly satisfying roles as Ben Cash, an idealistic father devoted to raising his six kids in the Pacific Northwest forests with a rigorous physical and intellectual education that makes them scarily fit and bright.
But paradise is lost when the secret seven have to leave their cabin in the mountains of Washington state and enter the real world when the shocking news comes that the mother has committed suicide in hospital. They decide to go to her funeral, but they are told by the family that they are not welcome.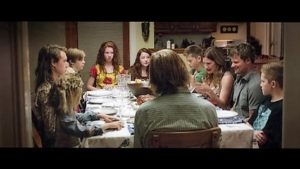 Writer-director Matt Ross's 2016 drama is thought-provoking, intelligent, amusing, offbeat entertainment. It's the kind of movie that sneaks under your skin and makes you want to hug it. Grown women, and maybe some men, will have a little cry.
George MacKay stands out as the oldest of the kids, Bo, a near-autistic desperately fumbling towards adult life, a possible relationship and formal schooling. It's a sweet performance but it's a stretch to imagine him as being an all-America wild child or Mortensen's soon. Frank Langella is amusing, though hammy as mean old granddad Jack. It's a turn, but why not? And Kathryn Hahn and Steve Zahn have one scene to shine in as the uncomprehending relatives.
But, it is Mortensen's show, and he's brilliant, warm, funny, charming and quite adorable. It's his best for ages, one of his best ever.
© Derek Winnert 2016 Movie Review 
Check out more reviews on http://derekwinnert.com