Cape Fear ***** (1962, Robert Mitchum, Gregory Peck, Polly Bergen, Martin Balsam, Telly Savalas, Jack Kruschen) – Classic Movie Review 176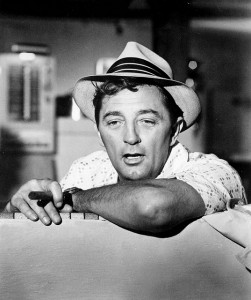 Robert Mitchum hypnotically plays the revoltingly sadistic Max Cady, an ex-con sex-offender out to get the man he blames for his conviction, upright small-town lawyer Sam Bowden (Gregory Peck).
Out after serving eight years in jail after Bowden failed to show him innocent of attacking a young woman, the vengeful Cady comes on like the monster who never dies, prepared to stalk the attorney and his family to the bitter end. The good don't have enough weapons to fight the evil.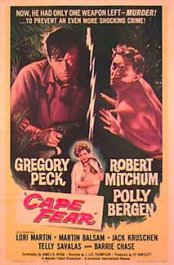 This masterly, nerve-jangling 1962 thriller, based by screenwriter James R Webb on John D MacDonald's novel The Executioners, is a real gripper from British action director J Lee Thompson (The Guns of Navarone, also with Peck). Thompson is to be greatly commended for this distinguished piece of work.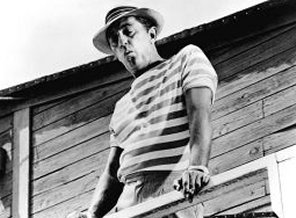 Recalling his demonic role in Night of the Hunter, Mitchum is chillingly riveting as he embarks on a campaign of terror, threatening Peck's wife Peggy (Polly Bergen) and teenage daughter Nancy (Lori Martin). He learned law in prison, so this can help him target the Bowdens, but he has always had a knowledge of violence and the first victim this time is their dog.
This clever set-up leads one long continuous sequence of corkscrew tension, finally ending up in a scalding climax the steamy Florida swamps that few thrillers can rival.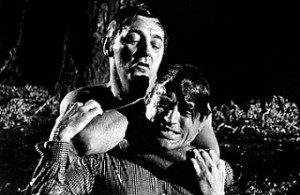 Peck and Mitchum are perfect, the yin and yang of good and evil. Mitchum's role showier, so it's a bit easier to shine. So you can see Peck's brilliance in his portrayal of an honest, good man under threat and in crisis, a man who's dragged his beloved family into the swamp with his attempt to act honestly and fairly. The courtroom's no place for the truth, apparently. Anyway, honest has desperate consequences.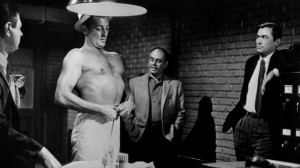 Great though the star duo are, there's also impeccable playing by the whole cast. Martin Balsam (Bowden's police chief buddy), Jack Kruschen (the other attorney) and Telly Savalas (the private detective the family hires to help) are essential cast members. Boy, there were great characters actors back in those days!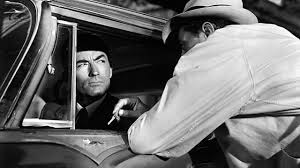 In a model of direction, an inspired Thompson keeps the thriller throbbing nervously along, never once letting up on the tension or the terror. Bernard Herrmann's grandly ornate score makes a major contribution to the film's bull's-eye effect. Sam Leavitt's film noir-style black and white cinematography is stunningly atmospheric, adding enormously to the all-pervading atmosphere of doom and gloom.
Thompson complained that UK censor John Trevelyan had ruined the film by making extensive cuts for the cinema release. Trevelyan replied he had made only 15 cuts, totalling around six minutes, with edits made to threatening dialogue and assault references, Cady's attack on Peggy, and all shots of him staring longingly at Nancy. But all later UK video releases restore the cinema cuts.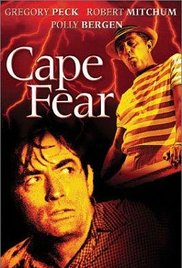 Peck, who produced the film, didn't like the novel's title The Executioners and decided that movies named after places tended to be successful. So he looked at a US map and happened on Cape Fear in North Carolina. But, alas, the film wasn't successful and its financial failure ended Peck's company, Melville Productions.
Peck said he was not impressed when Mitchum told everyone he had acted Peck off the screen: 'I had given him the role and had paid him a terrific amount of money. It was obvious he had the better role. I thought he would understand that, but he apparently thought he acted me off the screen. I didn't think highly of him for that.'
Mitchum said that during the filming of their final fight scene Peck accidentally punched him for real. Mitchum continued filming but later 'literally collapsed'.
It was remade by Martin Scorsese as Cape Fear in 1991, with Robert De Niro and Peck and Mitchum in support roles. Scorsese reuses Herrmann's soundtrack in his remake.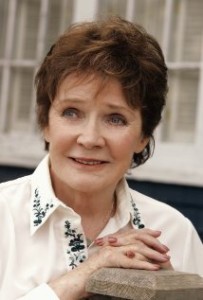 Polly Bergen died on aged 84.
http://derekwinnert.com/cape-fear-1991-classic-film-review-177/
© Derek Winnert 2013 Classic Movie Review 176 derekwinnert.com
Link to Derek Winnert's home page for more film reviews: http://derekwinnert.com/