Call Me Bwana ** (1963, Bob Hope, Anita Ekberg, Edie Adams, Lionel Jeffries) – Classic Movie Review 6550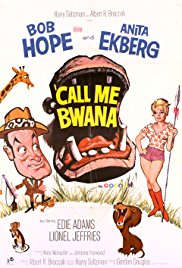 Bob Hope is pleasantly enough showcased in director Gordon Douglas's 1962 British-made farcical comedy, which turns out to be adequate though rather low-fun entertainment. It is all a bit slack and silly.
Hope stars as phoney explorer and African authority Matt Meriwether, who takes off with special agent Frederica Larsen (Edie Adams) to retrieve a space module in the Pinewood studio jungle.
There they find a couple of unlikely foreign spies – Russian secret agent Luba (Anita Ekberg) and Dr Ezra Mungo (Lionel Jeffries, replacing Terry-Thomas).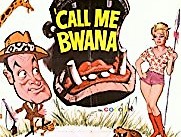 As you can see all the jokes coming a mile off in the screenplay by Nate Monaster, Johanna Harwood, Mort Lachman and Bill Larkin, there are only some smiles but very few real laughs among the daft goings-on.
It is made by Eon Productions by the James Bond producers Harry Saltzman and Albert R Broccoli in the same year as their Dr No. It is only the second non-Bond movie produced by Eon until Film Stars Don't Die in Liverpool (2017).
Also in the cast are Percy Herbert, Paul Carpenter, Orlando Martins, Al Murock, Bert Johnson, Peter Dyneley, Robert Nichols and Robert Arden.
It is shot in Technicolor by Ted Moore, scored by Monty Norman and Muir Matheson, and designed by Syd Cain.
Gordon Douglas directed Stan Laurel and Oliver Hardy in Saps at Sea (1940), the classic sci-fi film Them! (1954), James Coburn in In Like Flint (1967), Frank Sinatra in Young at Heart (1954) and The Detective (1968), and Elvis Presley in Follow That Dream (1962), making him the only film-maker to have directed both Sinatra and Presley. Douglas recalled: 'I have a large family to feed and it's only occasionally that I find a story that interests me. Don't try to watch all the films I've directed. It would turn you off movies forever.'
© Derek Winnert 2018 Classic Movie Review 6550
Check out more reviews on http://derekwinnert.com