Café Society **** (2016, Jesse Eisenberg, Kristen Stewart, Steve Carell, Blake Lively, Jeannie Berlin, Ken Stott) – Movie Review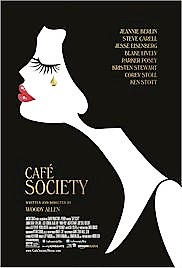 The 80-year-old Woody Allen conjures up one of his better movies in 2016, a charming, sparkling bitter-sweet romantic comedy, with a retro 30s both coasts setting that gives him plenty of chance to show off his love of deco, jazz, Hollywood, New York and old movies.
Jesse Eisenberg is perfect as the Woody Allen substitute performer, that is playing the young Woody Allen role as put-upon 20something Jewish hero Bobby Dorfman, who swaps his stifling family in the Bronx for Hollywood, where he begs his powerful movie star agent uncle Phil Stern for a job, and falls in love with his secretary Vonnie (Kristen Stewart), who, it turns out, is in love with the married Stern.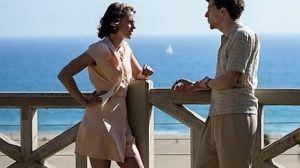 Tired and disillusioned, Bobby returns to New York, where he hosts high society nightclub with his gangster brother Ben (Corey Stoll) and falls for the lovely, leggy Veronica (Blake Lively) but never forgets Vonnie.
What a lovely looking film this is – thanks to the gorgeous cinematography of Vittorio Storaro (who won Oscars for Apocalypse Now, Reds and The Last Emperor) and the glorious production designs of Santo Loquasto, who bring real magic to the movie.
There is precision acting by Eisenberg, Stewart, Carell and Lively, all of whom pull you into their world and thoughts and feelings, suggest exactly how much in love they are at each moment of the film – their performances are that subtle and graded. Jeannie Berlin and Ken Stott also do well as the parents, Rose and Marty Dorfman.
Allen's screenplay is superbly polished and mature, with delicious dialogue – a few Allen one-liners, but mostly 'real' witty lines. 'Live each day like it's your last,' Allen tells us, 'for one day you will be right.'
The story is narrated on screen by the inimitable tones of Woody Allen.
© Derek Winnert 2016 Movie Review
Check out more reviews on http://derekwinnert