Cactus Flower *** (1969, Walter Matthau, Ingrid Bergman, Goldie Hawn, Jack Weston) – Classic Movie Review 4058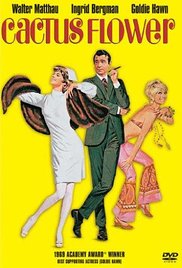 Director Gene Saks turns Abe Burrows's Broadway comedy into this flimsy, contrived and creaky but still reasonably pleasing, genial and amusing 1969 movie, boosted by appearances by three of the cinema's brightest stars.
Ingrid Bergman stars as an introverted dentist's nurse and receptionist, Stephanie Dickinson, who blossoms like a cactus flower when she finds that she is in love with her dentist boss, Dr Julian Winston, played by Walter Matthau. The dentist pretends to be married to avoid commitment to his young girlfriend Toni Simmons and recruits his lovelorn nurse to pose as his wife.
However, the charming and delightful Goldie Hawn (aged 24) surprisingly out-acts them both, as Toni Simmons, and won a Best Supporting Actress Oscar in only her second movie.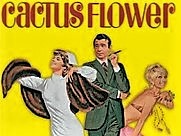 Bergman is game for it but she is awkward with the material, which doesn't really suit her, and her screen partnership with Matthau lacks flair and warmth.
Also in the cast are Jack Weston as Harvey Greenfield, Rick Lenz as Igor Sullivan, Vito Scotti as Señor Arturo Sánchez, Irene Hervey as Mrs Durant and Eve Bruce as Georgia.
Trying to inject some wit into his screenplay, I A L Diamond adapts Burrows's mechanically plotted play, based on a French play by Pierre Barillet and Jean-Pierre Grédy. Alas the barbed wit and sharp comedy acting promised by the ads are missing.
Lauren Bacall played Stephanie Dickinson on Broadway.
Previously, Gene Saks (1921–2015) steered Broadway shows Barefoot in the Park and The Odd Couple (also with Matthau) to the screen with success.
© Derek Winnert 2016 Classic Movie Review 4058
Check out more reviews on http://derekwinnert