Caccia Tragica **** (1947, Massimo Girotti, Carla Del Paggio, Andrea Checchi, Vivi Gioi) – Classic Movie Review 5263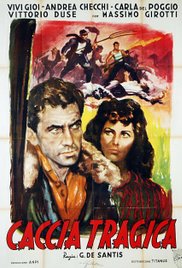 a
Co-writer/ director Giuseppe De Santis's beautifully made, carefully scripted 1947 Italian melodrama is a semi-classic, with imaginative camerawork and particularly interesting writing credits.
Massimo Girotti and Carla Del Paggio play Michele and Giovanna, who are kidnapped by two bandits Alberto and Daniela (Andrea Checchi and Vivi Gioi), who are chased by the local farmers through the Po Valley in the Tragic Hunt of the title.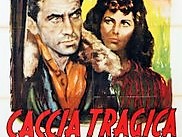 It is filmed wholly on location in Italy's Romagna, with a cast of local non-professionals in small roles, producing a commendable Neo-Realist tone, which sets up an intriguing conflict with the melodramatic, pseudo-Western story and the self-consciously stylish shooting method.
It marks De Santis's promising directorial début.
Also in the cast are Vittorio Duse, Checco Rissone and Guido della Valle.
It is written by Giuseppe De Santis, Michelangelo Antonioni, Cesare Zavattini, Carlo Lizzani and Umberto Barbaro, shot in black and white by Giuseppe Rosati and scored by Otello Martelli.
It is also known as Tragic Hunt and The Tragic Pursuit.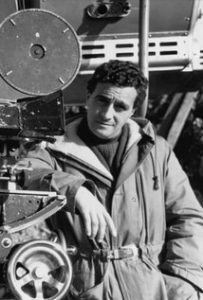 Giuseppe De Santis was born on February 11, 1917  and died on May 16, 1997. He was known for Bitter Rice (1949), No Peace Under the Olives (1950) and Rome 11:00 (1952).
© Derek Winnert 2017 Classic Movie Review 5263
Check out more reviews on http://derekwinnert.com