Cabaret ***** (1972, Liza Minnelli, Michael York, Joel Grey, Helmut Griem, Marisa Berenson, Fritz Wepper) – Classic Movie Review 206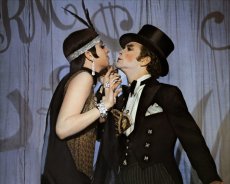 Fred Ebb and John Kander's beguiling adult musical, with its score enhanced by new songs, especially Money Makes the World Go Around and Maybe This Time, shows the way to turn a great Broadway show into a great movie. It was the winner of eight Oscars, including best actress, supporting actor, cinematography and direction. Disappointingly, it missed out on Best Film and Screenplay though.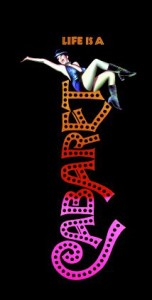 Bob Fosse's direction and choreography are a tour-de-force of style and sophistication, encouraging his 26-year-old star Liza Minnelli to dazzling heights. The showstopping Minnelli has never been better than here as nightclub singer Sally Bowles and she won an Oscar as best actress, kicking up a storm as actress, singer and dancer.
Her character, though Americanised from the original English character and way too professional (why would she be toiling in a seedy joint like the Kit Kat Klub if she's this wonderful?), is otherwise exactly right. She's both maddening and appealing as well as desperately yearning (especially as she sings Maybe This Time) for something somewhere over the rainbow.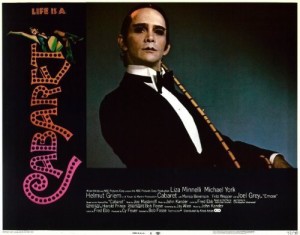 It's also by far the best thing Joel Grey has ever done as the creepy MC of 30s Berlin's Kit Kat Klub, where Sally performs for the increasing numbers of Nazis in the audience. Grey, commandingly repeating his Broadway stage role, is splendidly creepy in a lurid, knockout performance that's simultaneously repelling and compelling.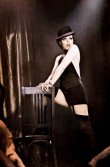 Though he physically looks uncannily more like Christopher Isherwood's poet friend WH Auden, than Isherwood himself, the otherwise ideally cast Michael York is a class act as the autobiographical character of the British gay writer Christopher Isherwood (1904-86).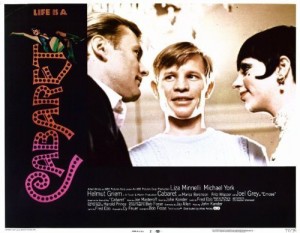 He is depicted here as Brian Roberts, a bisexual torn between his love for Liza Minnelli's Sally and gay aristocratic German hunk, rich playboy Maximilian (Helmut Griem). Max promptly seduces both of them.

The film perfectly conjures up the mood of divine decadence in pre-World War Two Berlin just before Germany's takeover by the Nazis, and shows the start of the mindless terror there for Jews, homosexuals and other outcasts.
Isherwood published the show's source novel Goodbye to Berlin in 1939 just as World War Two started and he controversially left Britain with Auden to start a new life in America.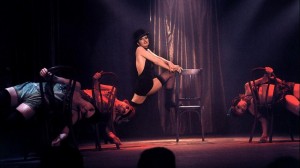 The Oscars went to: direction, Best Actress (Liza Minnelli), supporting actor (Joel Grey), cinematography (Geoffrey Unsworth), art direction/set decoration (Rolf Zehetbauer, Hans Jürgen Kiebach, Herbert Strabel), editing (David Bretherton), sound (Robert Knudson, David Hildyard), scoring (Ralph Burns).
Joe Masteroff's book of the 1966 musical play comes via John Van Druten's 1951 stage version I Am a Camera (filmed as I Am a Camera in 1955).
Four-letter words are cut in the TV version.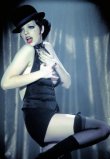 The wonderful 2013 London stage revival with Will Young and Lynn Paul shows how excellent the original show is, much darker than the film and the gay element is more prominent.
Herbert Strabel, the Oscar-winning set dresser on Cabaret, died at 90 on 21 October 2017.
© Derek Winnert 2013 Classic Movie Review 2o6
Check out more reviews on http://derekwinnert.com