Byzantium *** (2012, Saoirse Ronan, Gemma Arterton, Sam Riley, Caleb Landry Jones, Johnny Lee Miller, Tom Hollander, Daniel Mays) – Movie Review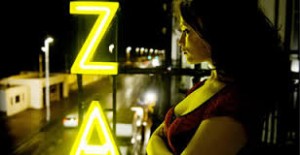 Vampires again – good! – and from Neil Jordan, the director of Interview with the Vampire  – good! –  but oh so very serious – bad! Byzantium is lovingly done but it's not really very interesting and it's long, plodding and slow moving. The acting is below par, and, surprisingly, Gemma Arterton isn't a good actress here at all.
She plays the older of two vampires, and Saorise Ronin plays the younger, who hove up at a seaside town, where they pose as mother and daughter and prey on the locals. Moira Buffini wrote the stage original (and later the TV version), a highly emotional teenage romance along the lines of Twilight, where the younger vampire falls for a sickly boy.
Many traces of this original remain in the film as Ronin's Eleanor romances Caleb Landry Jones's desperately sickly Frank, prompting her to come clean and tell him her little secret. She's not the human teenage schoolgirl she seems, she's actually 200 years old and survives on a diet of human blood. No, really!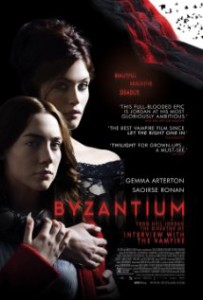 Ironically, this youthful romance proves the most interesting part of the movie, thanks in part to the powered-up efforts of the two actors. Ronin and Jones are easily the best, classiest players here. Jordan has changed things around quite a bit, and added what he thinks is very adult grown-up appeal.
And so the main story hinges on Arterton's Clara, who meets Daniel Mays's pathetic Noel, who puts her up at his deserted hotel called Byzantium, which they turn into a brothel. No, really! Soon Arterton's Clara is a blood-sucking vampire prostitute and blood is splattered and the hills run red as Jordan goes for an arty but full-bloodied movie. And Arterton says she wants to be a role model for young girls! No, really!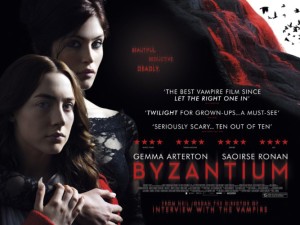 The best thing to say about the movie is that Jordan has left the piece's stage roots way behind in the same way he made the Interview with the Vampire book into an absolute cinema experience. You'd have to be very clever to notice what he's done here if you didn't know it was originally a play, though it is just possible to intuit it. Jordan's mainly done this by the use of dazzling cinematography (applause for Sean Bobbitt) and astonishing locations.
There is some Irish filming but it's mostly filmed at Hastings, a seaside resort that Jordan felt captured the right desolate, run-down appeal for his movie. Local residents may be horrified, but his locations have the right eerie emptiness, and a feeling of the rot having set in on what was once a glorious splendour.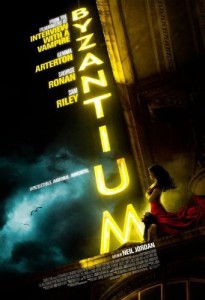 No need then to quarrel with the look of the film – it's continually astonishing, an adornment to any big screen, and all achieved on what's a fairly modest budget of £8million. It's good to report that money's all up there on screen in classy production values.
The quarrel is partly with the generally rough acting but mostly with the untidy, out-of-control plot and Jordan's hold on the ambitious, multi-stranded film. It isn't controlled firmly enough and he lets it slip out of his fingers in an excess of zeal and enthusiasm, in his hard, devoted work to make it not just one more vampire movie. Over-egging a pudding's better than no eggs at all, of course, but it still makes for indigestion.
Sometimes this leads Jordan here into arthouse cinema territory but at other times into Hammer horror territory, as some of the film is just plain lurid . You'd think this would make a deliciously tasty and exciting mix, wouldn't you? But, sadly, it doesn't quite.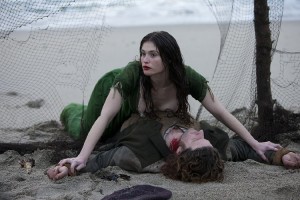 Having free-spirited female vampires as the main protagonists doesn't so much fly the flag for vampire women's lib as bring the seventies Hammer vampires to mind, with breasts heaving and lesbian kisses. Though this does provide two stonking roles for young women, with, unusually, the men totally sidelined. Sam Riley and Johnny Lee Miller aren't at all at their best as Darvell and Ruthven. They're stiff and constrained, but they do their best with the limited roles as written. They're both star actors struggling in supporting roles.
Having raised sex and blood expectations like this, it's a great pity there are no fangs, cloves of garlic, crucifixes and coffins as well in this vampire movie. With all the old magic ingredients carefully mixed and stirred, it would have been so much more fun. And, by going all arty on us, Byzantium is pretty much no fun at all.
© Derek Winnert 2013 Movie Review
Check out more reviews on http://derekwinnert.com