Bunny O'Hare ** (1971, Bette Davis, Ernest Borgnine, Jack Cassidy) – Classic Movie Review 6023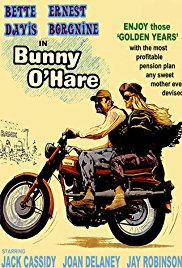 Director Gerd Oswald's 1971 golden years comedy pairs Bette Davis and Ernest Borgnine as penniless widow granny Bunny O'Hare and old thief Billy Green, who team up to rob banks like antique hippy, motor-biking Robin Hoods!
Davis said afterwards it was a 'tastelessly and inarticulately assembled slapstick production'.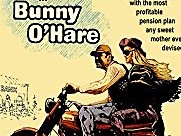 Although, daft and just as odd as it sounds, surprisingly, it is fairly entertaining, and Davis and Borgnine are appealing and funny. If you want to see Bette on a bike, this is the one for you.
Also in the cast are Jack Cassidy, Joan Delaney, Jay Robinson, John Astin, Reva Rose, Robert Foulk, Brayden Linden, Karen Mae Johnson, Francis R Cody, Darra Lyn Tobin, Hank Whickham, David Cargo, J Rob Jordan and Bruno VeSota.
It is written by Stanley Z Cherry and Coslough Johnson (based on Cherry's story Bunny and Billy), shot by Loyal Griggs and John M Stephens, produced by Samuel Z Arkoff, James H Nicholson, Gerd Oswald and Norman T Herman for American International Pictures, and scored by Billy Strange.
© Derek Winnert 2017 Classic Movie Review 6023
Check out more reviews on http://derekwinnert.com