Bulletproof Monk **½ (2003, Yun-Fat Chow, Seann William Scott, Jaime King, Karel Roden) – Classic Movie Review 5317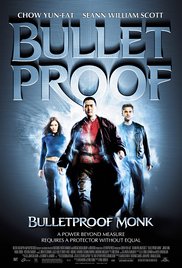 'A monk. A punk. A chick. In a kick-ass flick.' Director Paul Hunter's amusing 2003 action thriller relishes its odd-couple daring in teaming Chow Yun-Fat with Seann William Scott.
Chow Yun-Fat stars as wise, old Monk With No Name, who teams up with street-smart thief Kar (Seann William Scott) to save a Tibetan scroll from Nazi baddie, Strucker (Karel Roden). Another street-wise kid, cute girl Jade (Jaime King), helps them out.
High-flying martial arts meet cool star turns and droll wit in this surprisingly enjoyable fantasy action comedy, based on an underground comic book.
It is produced by Cub Five, Flypaper Press, Lakeshore, Lion Rock, Mosaic and Signpost, and released by MGM and Pathé.
It is written by Ethan Reiff and Cyrus Voris, shot by Stefan Czapsky and Anthony Nocera, produced by Charles Roven, Douglas Segal and Terence Chang, scored by Eric Serra and set designed by Deborah Evans.
© Derek Winnert 2017 Classic Movie Review 5317
Check out more reviews on http://derekwinnert.com